Delicious wines with a taste of tradition: Discover the wonders of one of Slovakia's wine tours
Beautiful nature, traditional delicacies and quality wines: an exceptional union of all three can be found in the Little Carpathian region, which is also home to the most famous wine tour in Slovakia. Discover its charm together with us.
Favored by Celts, Romans and Slavs
In Slovakia, wine has a rich tradition spanning more than two thousand years – first produced by the Celts and later the Romans. The arrival of Cyril and Methodius from Thessalonica contributed even more to its popularity. In the 9th century the two brothers came to the area of present-day Slovakia, bringing with them a system of writing as well as Christianity, with liturgical rites that made use of wine. The popularity of the drink grew so much that even common people prayed to god for it.
And 900 years later the world-famous Habsburg ruler Maria Theresa couldn't resist the taste of Little Carpathian wines. Legend has it that she contracted smallpox at age 50, her illness so serious that she even received the last rites. However the parish priest from Rača sent her a barrel of local Blaufränkisch, which cured her within a month. Since then, the delicious wine of Rača found a place in imperial cellars, and was served at the most prestigious events.
Vineyards just a stone's throw from Bratislava
Wine tours are one of the most pleasant ways of experiencing Slovak wines in the harmonious setting of the beautiful outdoors, traditional wine cellars, and wineries. The most popular is the Little Carpathian Wine Tour, allowing people from both Slovakia and abroad to taste various varieties while never far from the capital. It consists of a total of 25 towns and villages, some of which are former free royal towns by the Little Carpathian Mountain Range.
Bratislava itself has two boroughs with a rich offering of local wines: Rača and Vajnory. However, the surrounding towns and villages known for their winemaking are certainly worth a visit as well. Besides its wineries and picturesque churches, the town of Modra produces traditional ceramics, known for a unique color and shape and called Modra majolica.
In Pezinok you'll find interesting historical structures, including a castle and town walls, as well as a mining-focused circular educational trail presenting the town's gold mining history. Apart from typical vineyard houses and wine cellars full of bottles, in the nearby town of Svätý Jur you can also look forward to visiting a Renaissance manor house once belonging to the Pálffy aristocratic family.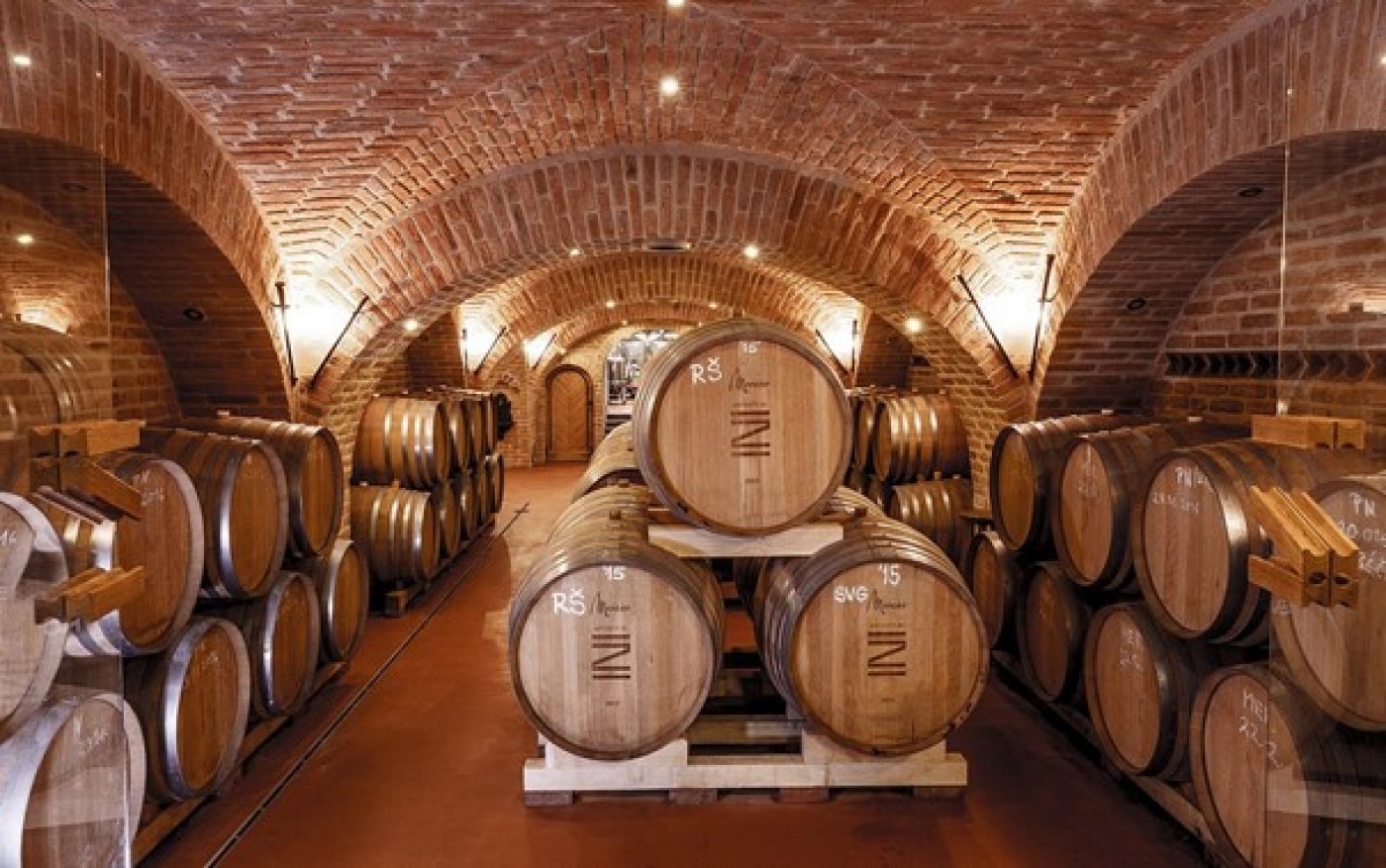 Image: The wine cellar of the renowned Slovak Zápražný winery.
Discover the charm of Slovak vineyards
May and November are perfect for visiting the wine cellars and shops of Slovakia's winemakers. During these months, Saint Urban's Day and the Open Cellars Day take place, giving you a unique opportunity to taste delicious wines from the whole region from Bratislava to Trnava.
Visitors can look forward to more than one hundred open cellars and several hundred different wines to taste. All this is covered in the price of a single ticket, which also includes a glass for wine tasting and credit for the purchase of wine. You can enjoy several varieties of the previously mentioned Blaufränkisch and St. Laurent from different winemakers. Fans of white wine can also try Grüner Veltliner, Welschriesling or Rhine Riesling.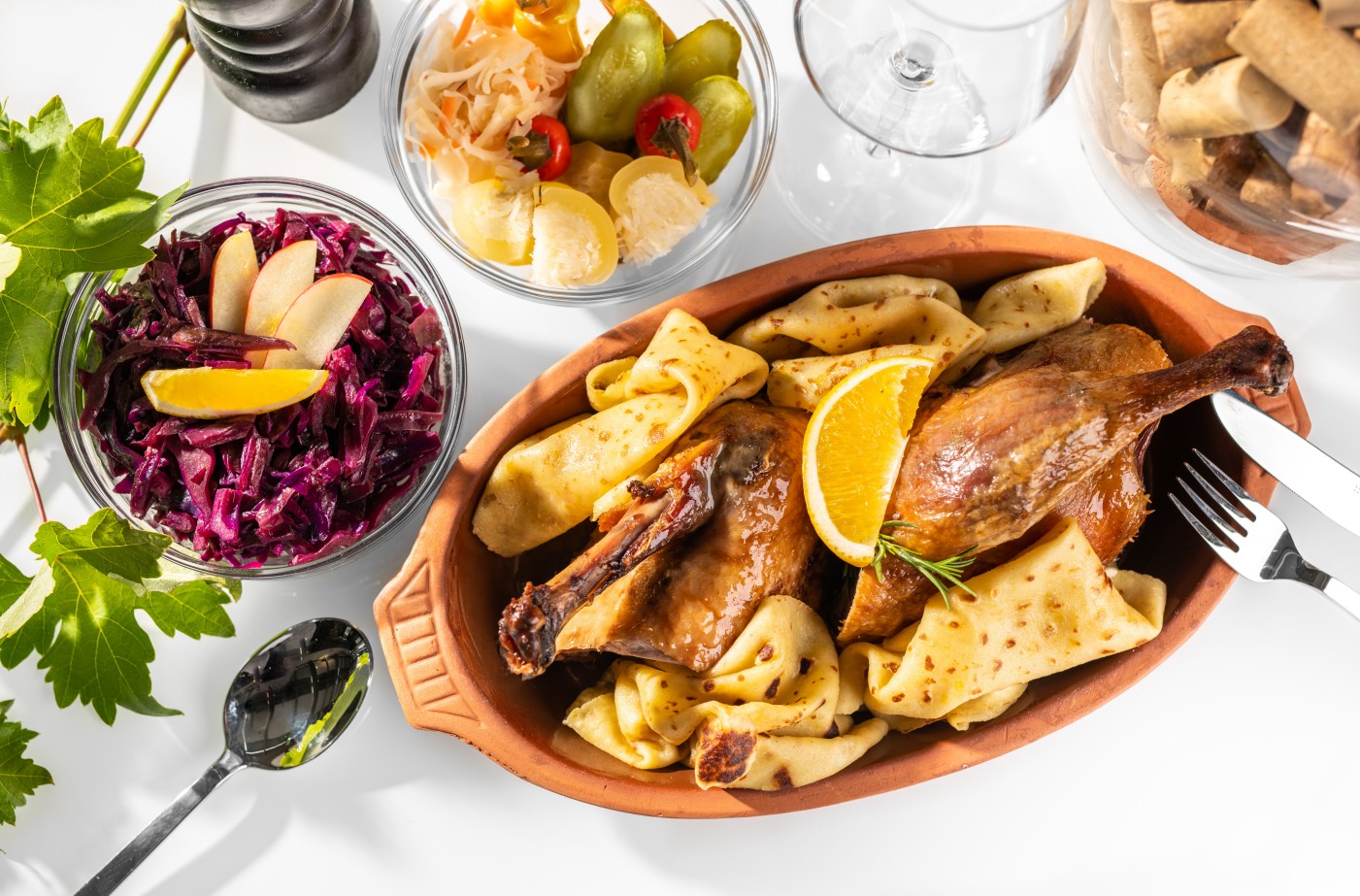 Image: In addition to wine, you can also try a local specialty: traditional roast goose.

Tasting wine – and something to pair it with
Naturally, individual wineries organize wine tastings throughout the year. All you need to do is make a reservation or buy a ticket. But what if wine isn't enough by itself, and you also want to try some local delicacies? The village of Slovenský Grob, where several restaurants offer their culinary craft, offers a gourmet experience combined with wine tasting. You can look forward to roast goose, a duck feast, goose liver, and lokše – traditional potato pancakes.
Anyone who enjoys street food, celebrations, and festivals will find what they're looking for in Modra and Pezinok. The annual wine festivals also offer amusement rides, concerts, traditional Slovak delicacies, modern cuisine, and – of course – great wine.
Share your CEE experience
Do you also have a travel tip, a recipe recommendation, useful business customs, interesting traditions or a story about CEE that you would like to share? Write to communications@rbinternational.com and share your experience.