CE/SEE economic development: Cautious outlook further amplified
With the war in Ukraine still ongoing and sanctions between east and west as well as the energy crisis, inflation and tightening monetary policy still affecting the economy, the main storyline of our base case scenario holds up well: Our general medium-term outlook assumes an industrial/technical recession in the euro area and Central Europe at the turn of 2022/2023, with a relatively less pronounced slowdown in services-oriented Southeastern Europe. 
Two additional factors are, however, amplifying some of the existing trends. First up, the more pronounced hit to consumer demand after inflation turned out, yet again, to be more persistent. Now inflation is broadening not only in CE, where pressures were high even before the pandemic, but also in SEE. Second, the recently observed financial markets volatility and ongoing increases in risk aversion are likely to remain present in the next quarters posing additional challenges also on the economic side. The NGEU funds remain a positive factor and an opportunity for an accelerated energy transition. 
Overview of key macro forecasts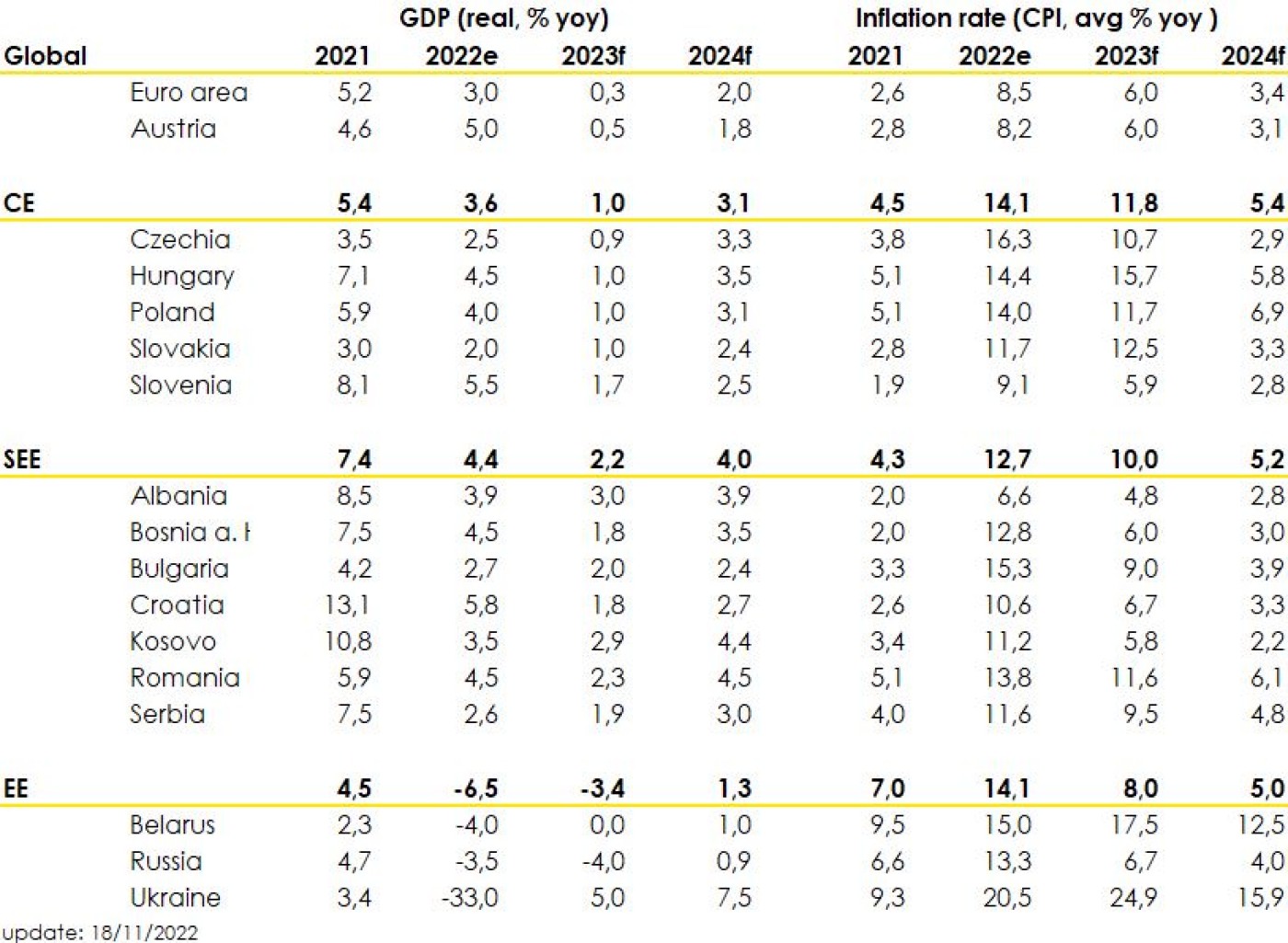 GDP: Economic slowdown in 2023 slightly more pronounced
From the onset of the war in Ukraine our assessment was that the industry-reliant Central Europe (and Romania
to some extent) will be more vulnerable to the consequences of these events. This has been confirmed by the decline in Manufacturing PMIs and ESI indices observed in the last months. On the industrial output side, however, the results so far have been more upbeat. Looking at indices with December 2020 as the base period output in Poland, Germany and the euro area is lower compared to the levels before the war started while some rebound was observed in Czechia and Hungary. Here supply chain disruptions hampered the automotive sector in 2021 while recent easing has boosted the results. The ongoing decline in industrial sentiment indicators corresponds with our gloomy outlook for an industrial recession in the winter period, whereas we still expect a decline in output as high energy prices (but not necessarily energy supply disruptions) hamper activity within the sector. In the case of Southeastern Europe, the economic downside is somewhat limited due to less exposure to the industrial sector compared to Central Europe. Instead, the region is more reliant on services, tourism, which limits the slowdown of the economies amid the strong summer season. 
Sentiment indicators point to industrial weakness – output remains upbeat, for now

Compared to our previous forecasts, the broadening of inflationary pressures and the connected hit to consumer demand as well as the financial markets volatility have additional downside impact on our GDP forecasts. Considering these factors, we have slightly reduced our GDP forecasts for 2023 (CE by 0.3pp to 1% yoy, SEE by 0.9pp to 2.3% yoy) even though they were already relatively low since we changed our outlook in April. We made slight upward revisions to 2022 GDP estimates for SEE especially, following a very good tourism season (CE up by 0.1pp, SEE up by 1pp). That said, it is worth noting that the first Q3 results for Czechia and Serbia have so far disappointed and especially for the latter create significant downside risk to our GDP estimate. Our 2023 forecasts for GDP no longer differ substantially from the consensus – as the consensus has slowly shifted towards our more pessimistic view.
That said, a risk in the adverse direction is that the global tightening of monetary conditions leads to a sharp decline in economic activity in 2023 leading to even lower growth in the US, euro area and thus also in the CEE region. Such a development would imply a faster reduction in demand-driven price pressures and at some point, a just as rapid reversal of the tight monetary conditions as the current actions in the other directions. Whether this very negative economic growth scenario unfolds remains uncertain and so far, has no confirmation in data, however, this points us to one very likely outcome: a shift to rate cuts will come once central banks are convinced inflation is abating and this may coincide with the economic conditions that will require a decisive easing cycle. Still, the key positive factor in our outlook for the CE and SEE region remain the EU funds that are already flowing to most CEE-EU countries and are set to have positive spillover effects on the non-EU countries in the region.
Inflation: No peak yet, and constant stream of upward revisions
Following a stream of upward forecast revisions amid continuous upside surprises in CPI numbers in the region, recent months showed some stabilization. However, the direction has not changed. Apart from Russia, all countries continue to observe ongoing price increases with peaks likely still not reached (in most countries expected late this year or Q1'23). In case of inflation, while we assume a decline in 2023 compared to 2022, we are  expecting higher price pressures compared to the consensus for most countries. Despite that, we still see upside risks to our CPI forecasts rather than downside, for Central Europe in particular. In the previous months we have been underlining the broadest price pressures in the CE region which spread to core inflation and that are amplified by a tight labour market. Despite the looming slowdown or even recession, we expect only a limited hit to the labour market as firms may be wary of large layoffs after having faced challenges to find
workers at all. Thus, inflationary pressures should remain broad. 
Inflation* in CE/SEE vs EA: Much higher and broader as visible in high core inflation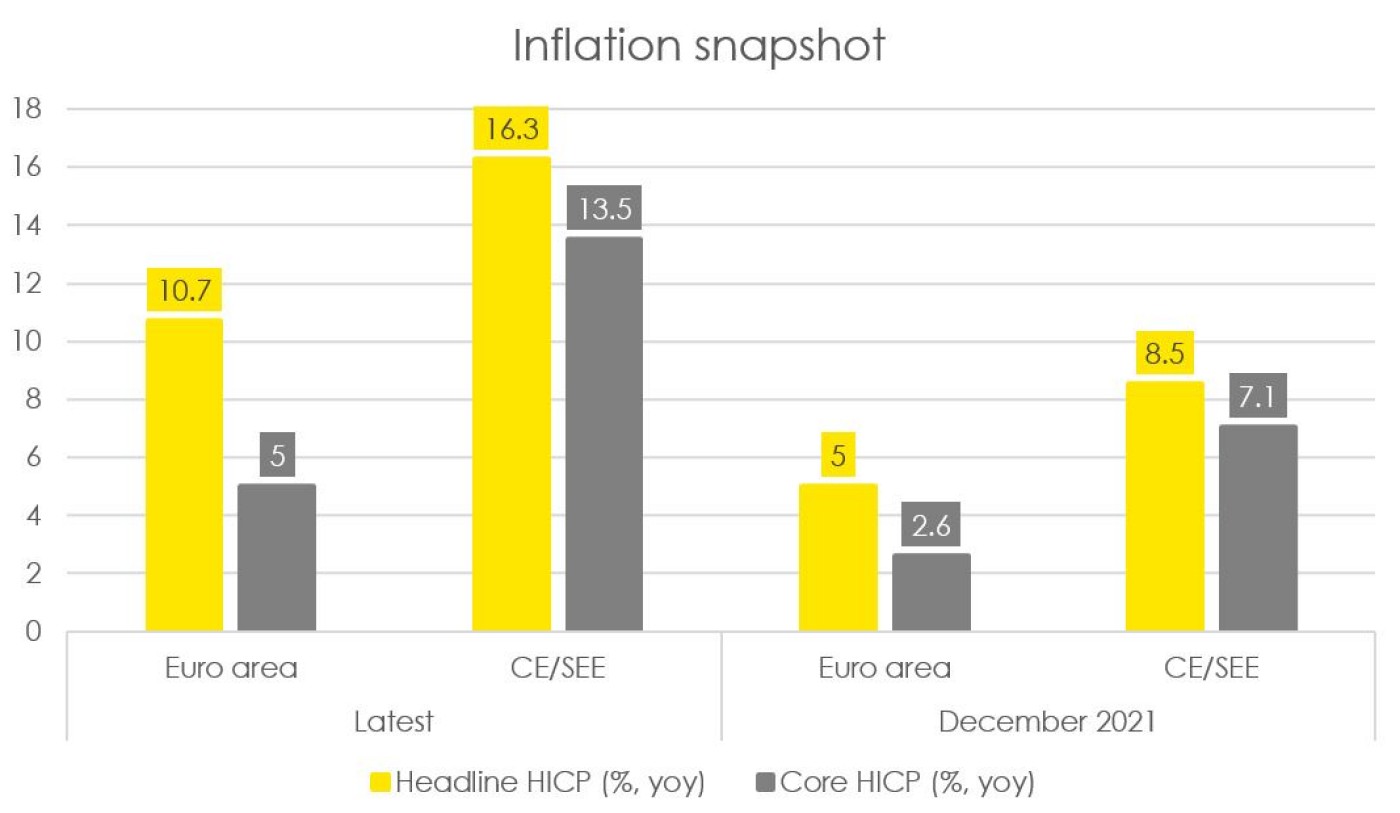 This is happening amid ongoing and intensified interventions from the government's side: most notably in Belarus, with a moratorium on price growth, and most recently in Hungary, where the government expanded the list of the basic items for which prices will be frozen (from now on eight staple foods, with an extension for eggs and potatoes) in response to the rise in CPI and core inflation above 20%. These interventions limit the hit coming from price pressures that are now affecting core inflation not only in CE but also in SEE. In particular, the Czech CPI for October was lowered by as much as 3.5pp by the recently implemented government measures, without which the CPI would be trending upwards again (it has since dropped from 18% to 15.1% yoy). However, it is important to stress that the measures (also in other countries) do not alter the general trend, while they will have to be reversed at some point and thus an upward adjustment will take place. Furthermore, while the unfolding economic downturn that will be observed globally will have a negative impact on price pressures, the decline in inflation rates is likely to be only gradual. We expect a prolonged period of high energy prices, which will negatively impact the business and consumer conditions and continue to pose tough dilemmas for central banks, which are already facing additional risks on the financial markets and exchange rates side.
In conclusion, downside risks to growth and upside risks to inflation remain. The further development of the war in Ukraine is of course our key source of uncertainty also for the euro area and the whole CEE region while our baseline scenario assumes the conflict continues in 2023. This will also shape the developments in terms of inflation, the key uncertainty in terms of economics, which will greatly affect the economic reality of 2023.

Head of Research RBI Branch Poland, CEE Coverage Lead, Warsaw
Share your CEE experience
Do you also have a travel tip, a recipe recommendation, useful business customs, interesting traditions or a story about CEE that you would like to share? Write to communications@rbinternational.com and share your experience.