A weekend trip to Belgrade
In recent years, Belgrade earned the reputation of being the European capital of night life and parties, especially among younger tourists. Plenty bars, clubs, pubs, cafés, and restaurants speak in favor of this title. Still, it would be a pity to miss other things the Serbian capital has to offer: historical places of interest, cultural institutions, beautiful vistas and a very good gastronomic scene.
There's a lot to do and see during the day and if you still have the energy to continue into the late
hours – a taste of Belgrade's night life should be on your list 😊.
Everything mentioned here can be covered in a weekend trip if you are well organized and plan ahead.
Belgrade is a moderately large city, with many sightseeing attractions in walking distance. And on top of all that, some tourists even argue that Belgrade could be a contender for the most affordable city break in Europe. 
Mind the weather: late spring and early autumn are the best times to visit
The second important thing to have in mind when you plan a visit is the weather. Winters can be quite chilly (even with some freezing days) and in the summer months temperatures can rise well above 30 degrees Celsius. So, what is the best time of the year to plan a city break with lots of walking and enjoying Belgrade's many restaurants and cafes with outdoor seating? Locals will confirm that it is best in either late spring (April and May) or early autumn (September and October). There is even a popular love song called "April in Belgrade". So you can imagine that a song about great love would not mention this month if it were not a very good month for romantic strolls or lovers whispering on park benches.  
Day 1: Start with Kalemegdan park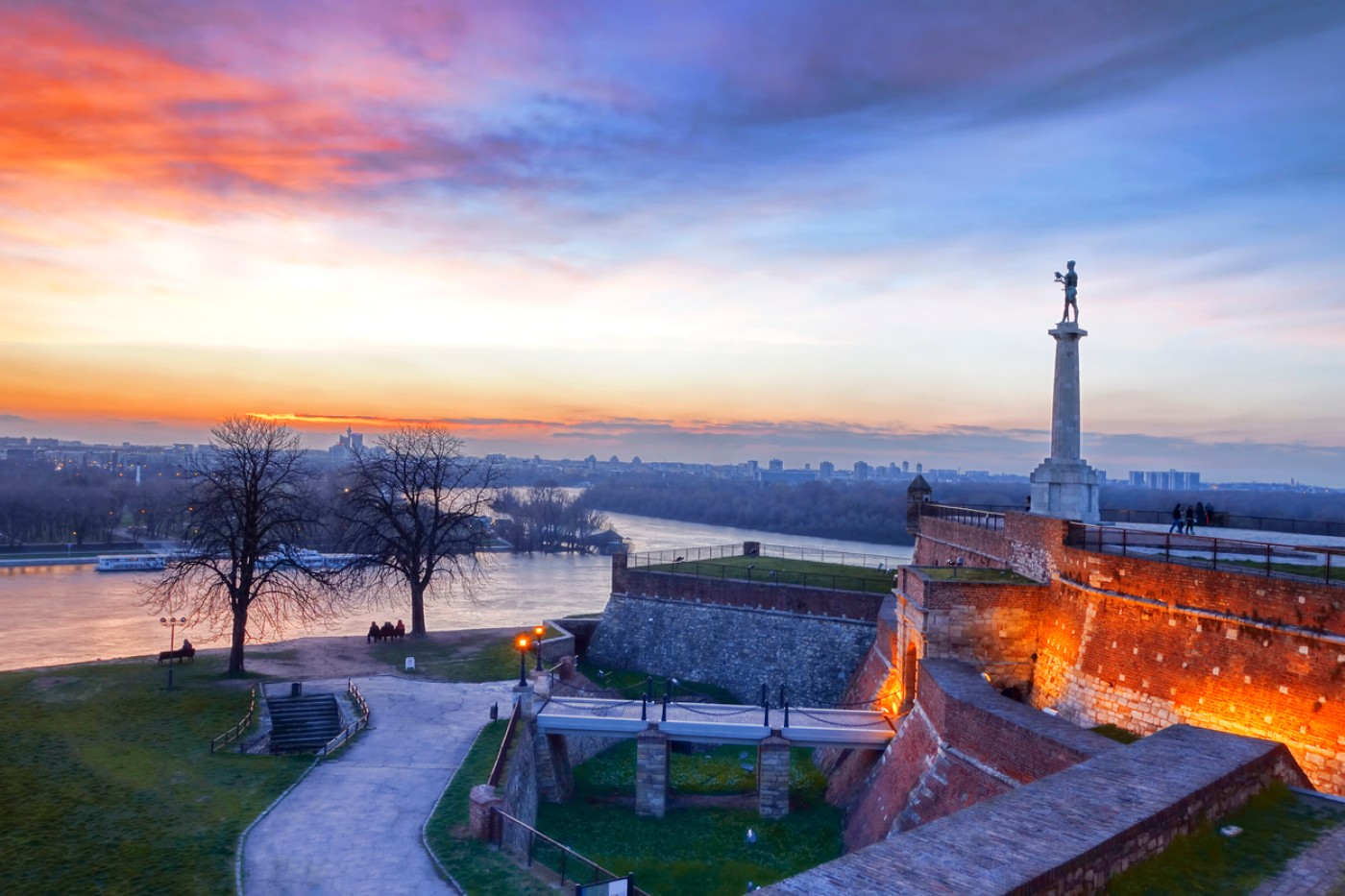 Talking about parks and strolls, Belgrade's biggest green space is situated in the heart of the city, overlooking
the confluence of the Danube and the Sava rivers. It may also be the starting point of your tour on the first day of the visit. Kalemegdan park is home to Belgrade Fortress (www.beogradskatvrdjava.co.rs), a zoo, museums,
churches, restaurants, and fortifications that have been there for centuries. A special local tip for visitors of the Belgrade fortress, especially history and archeology enthusiasts: check the underground tour also loved by the locals (https://beogradispodbeograda.com).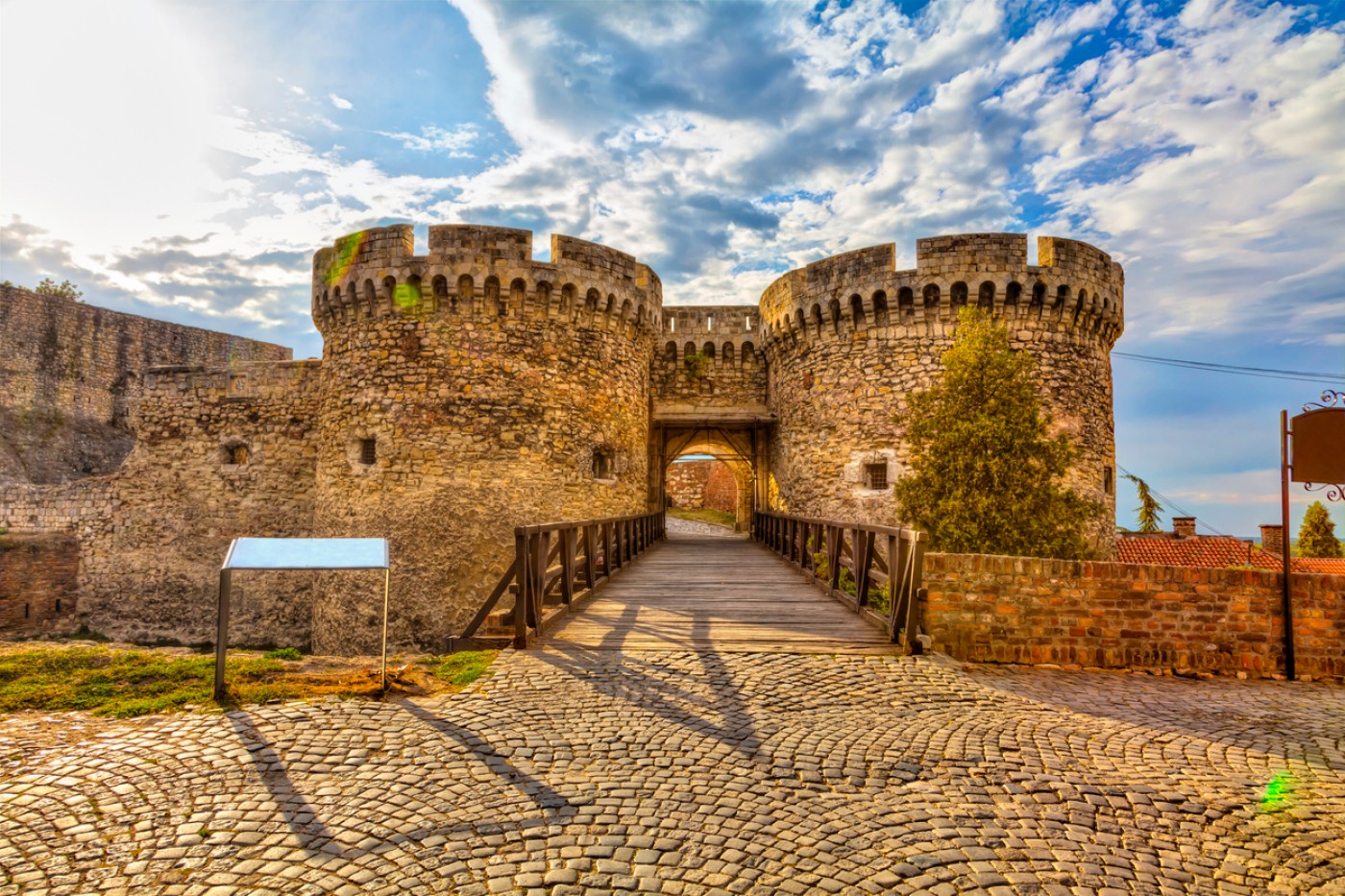 Belgrade is for history lovers
It is worth mentioning that Belgrade is one of the oldest continuously inhabited cities in Europe and the world, so possibly an ideal spot for history lovers. Even if you visit for only a couple of days or a weekend, the blend of the "old" and "new" will be visible on almost every corner. One very interesting fact can illustrate this: one of the most important prehistoric cultures of Europe, the Vinča culture, evolved within the greater Belgrade area in the 6th millennium BC. 
The history of Belgrade deserves an article of its own, so we return to the weekend trip recommendations. After visiting Kalemegdan, either as a history enthusiast or just a tourist in search of green spaces and beautiful views (and especially sunsets), it is recommended that you head to Knez Mihailova Street. It is the central pedestrian area, packed with shops, restaurants, and cafes. It is a great place to enjoy the energy and atmosphere of the Serbian capital. It will take you right to the very center – the Republic Square. Known as the main meeting point of the locals, this square has recently been renovated, but one thing remains unchanged: the large statue of Prince Mihailo on horseback. The statue was erected in 1882 and it is the work of the famous Venetian sculptor
Enrico Pazzi. In the square, you can also see and visit the Serbian National Museum and the National Theatre, both boasting beautiful Austro-Hungarian style architecture of the 19th century. 
Art lovers need to go to the National Museum
The National Museum in Belgrade (www.narodnimuzej.rs), with its facade characterized by polychrome ornaments of neo-Renaissance origin, is the largest and oldest museum in Serbia, monumental in size and volume. The museum hosts 34 archeological, numismatic, artistic, and historical collections today. The art collection includes Serbian medieval, French, Dutch, Flemish, Italian, Russian, German, Japanese, Chinese, English, Spanish, Hungarian, Romanian, Bulgarian, Yugoslav, and miscellaneous art collections. In total, the collection numbers some 16,000 paintings, graphics, drawings, icons, and prints, plus more than 900 sculptures. So, it is a must
see for all art lovers, who can view beautiful pieces of art of Serbian and Yugoslav artists, but also find works of Matisse, Picasso, Renoir, Degas, Cézanne, Raphael, Titian, Tintoretto, Modigliani, Mondrian, Bosch, van Dyck, Brueghel, Monet, Signac, Chagall, Kandinsky, Dürer, Klimt, El Greco, Picasso, and many others. 
Enjoying kafana like Serbians
From the Republic Square, you can easily walk a few hundred meters and head down to the cool and eclectic Skadarlija, which is known as the bohemian quarter, similar to the Parisian Montmartre. Originally a home for artists hired to work for the National Theatre in the latter half of the 19th century, in recent decades Skadarlija has been recognized for its nightlife and the kafanas, traditional Serbian restaurants known for their live music at night (but also often during the day), great atmosphere and amazing food. Contrary to the usual "touristy" spots in other capitals, Skadarlija is popular among locals as well, so if you want to feel how Serbians really enjoy kafana, you should definitely visit one of the many in Skadarlija, order traditional food and do not forget to tip the musicians if they play at your table 😊.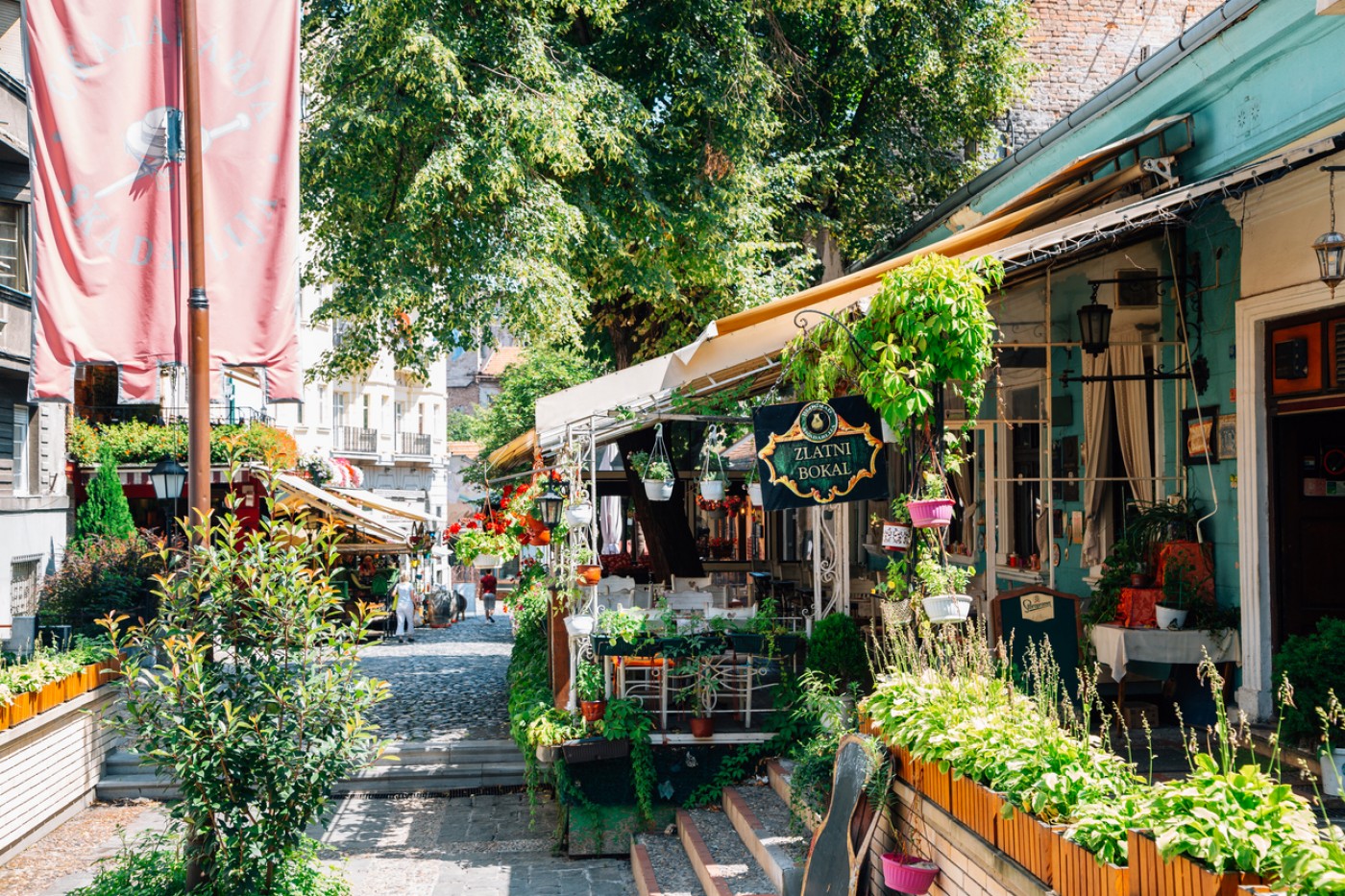 After a good meal and the famous Serbian rakija in Skadarlija, it's time to explore the part of the old town known as Dorćol. It has been inhabited for centuries, which is reflected in its eclectic architecture and overall vibe. On one side of the street, you can see an example of classic Austro-Hungarian architecture standing right next to a functional brutalist apartment block, while an Ottoman-era house is directly across the street. A special tip from the locals: Dorćol is the home of Belgrade's officially oldest house, at number 10 Cara Dušana Street. It's not open to the public, but you can check it from the outside if you happen to pass by.  

If at the end of your walk through Dorćol you still feel a little hungry or maybe thirsty – don't worry, you will find a number of great restaurants, bars, and cafes here too (for instance, the well-known Strahinića Bana Street is lined with them). You can also walk down to the Danube, where you will find a complex of four monumental silos (known as Silosi) 28 meters high. The silos, which are now a kind of brutalist architectural monument, have been given a new life and transformed into a cultural center that not only houses an art gallery dedicated to the local art scene, but is also a place where exhibitions, various festivals, fairs, sports, and other events take place. If you are lucky enough to visit during the warm season, you can enjoy the matinees, weekend get-togethers or exhibition openings, as well as the music of the most famous Serbian DJs. 
Day 2: Take a tour through Kralja Milana Street
Our "tour" continues on Sunday, the second day of the visit 😊. We recommend that you start again from the Republic Square and continue straight to Kralja Milana Street. You will reach the central part of Belgrade called Terazije with Belgrade's famous landmark – Hotel Moskva, an iconic hotel known for its beautiful architecture. Built in 1908 by an architect from St. Petersburg, the hotel has been providing accommodation to rich and famous visitors to Belgrade ever since its construction. Today, it is an iconic landmark in the Serbian capital, especially known for its trademark cake – Moskva šnit. Highly recommended by the locals 😊!
Continue through Kralja Milana Street, with its beautiful architecture that gives you the feeling of how Belgrade used to look like in the 19th and 20th century. You'll pass by the beautiful building of the Yugoslav Drama Theatre, one of the most important and prominent theatres in the former Yugoslavia and today, in Serbia. The modern building was reconstructed after the fire in 1997 and has since won numerous international awards for its architecture. If you feel like visiting a theatre and wish to see a high-quality Serbian theatre production, we recommend you check out some of the plays performed at the YDT (many of them have subtitles in English, www.jdp.rs).
The Church of St. Sava - one of the largest Orthodox churches in the world
Stroll a bit further and you will come to one of Belgrade's most famous landmarks, the Church of St. Sava. This church sits on the Vračar plateau and is dedicated to Saint Sava, the founder of the Serbian Orthodox Church and an important figure in medieval Serbia. This impressive religious structure is one of the largest Orthodox churches in the world  — others of equivalent size include the Alexander Nevsky Cathedral in nearby
Sofia and the People's Salvation Cathedral in Bucharest. It has been under construction since its building began in 1935. In recent years, visitors can also see the elaborate basement area inside the church, which is well worth seeing.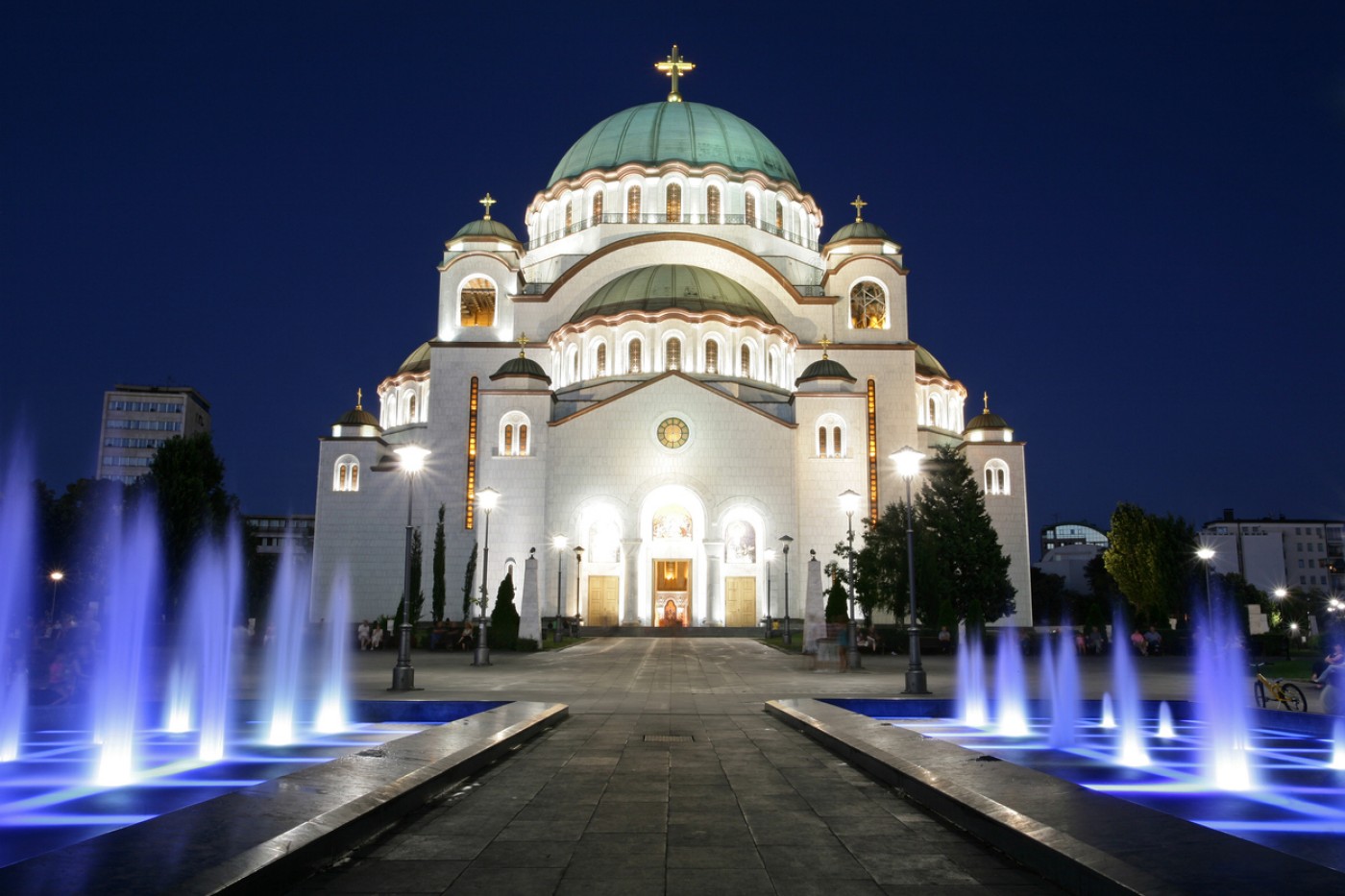 You have now arrived in what is considered the trendiest neighbourhood in Belgrade – Vračar. Despite its small size, it has a lot to offer: beautiful architecture, shops, cafes, trendy bars as well as some very traditional restaurants, small galleries … . And your first stop should definitely be the Kalenić farmers' market. Belgrade (as well as many other Serbian cities) is very proud of its green markets and Kalenić is one of the most important and oldest among them. Fresh and locally produced vegetables, fruits, local cheese, and meat of all kinds, fresh or cooked fish – there is something for every palate here! The market can be a great stop before visiting the nearby Nikola Tesla Museum (https://nikolateslamuseum.org/). This is the best place to learn about the life and more importantly, the  astonishing work of one of the world's most influential scientists who happened to be Serbian (a fact of which we are very proud of, so much so that Belgrade International Airport bears his name).

Here you can go on a tour where the guide will demonstrate some of his most influential inventions and inform you about his life and work.  
If you are tired from walking – take public transport
By visiting this part of Belgrade, you have almost covered all central areas. Depending on your interests, you can continue further and spend an afternoon enjoying some other sights and experiences. Since those would require more time to be reached on foot, the Belgrade tram and bus network is recommended as it is easy to use and navigate. You can purchase tickets quite affordably at newsstands all across the city and you just need to make sure to validate your ticket once you are on the bus or tram. 
Continue the history tour, but make it ecclectic
If you are into royal history and palaces, you will find the Royal Palace, the seat of Serbia's Crown Prince Alexander, in the wealthy southern suburb of Dedinje. A guided tour offers insights into this magnificently decorated complex (www.royalfamily.org).
Why not make it even more interesting and combine it with some of the most important landmarks in Serbia's communist history? The royal complex is close to Tito's mausoleum and the premises of the Museum of Yugoslavia, where you can get a crash course in 20th-century Yugoslav history (www.muzej-jugoslavije.org). If you happen to really like this subject, we recommend booking the popular communist tour: (www.belgradewalkingtours.com/explore-belgrade/communist-tour).
In case you would rather see another part of Belgrade that is quite different from the central area, yet very lively and interesting, with a vibe of its own – we suggest crossing the river to Zemun. You will find yourself in the former lands of the Habsburgs — the biggest clue being the elegant baroque architecture. Again, there is the opulent green market, the café-lined promenade along the Danube and the quaint part of Gardoš, with cobbled streets that lead to the Gardoš Tower, where you can enjoy wonderful views from the top.
Novi Beograd – the business district
When the tour of Zemun is over and you wish to return to the centre of Belgrade, you can continue walking along the riverbank and find yourself in Novi Beograd (New Belgrade). As a planned part of the city, whose construction began in the early 1950s, it has become the central business district of Belgrade and is now its fastest developing area. It is located on the left bank of the Sava River, while its north-eastern section touches the right bank of the Danube, right before its confluence with the Sava. New Belgrade is located generally west of 'Old' Belgrade, to which it is connected by six bridges. If you happen to find yourself there and love contemporary art,
you should check out the Museum of Contemporary Art (www.msub.org.rs). The building is a quite interesting example of museum architecture. It is surrounded by a park with sculptures by the most significant Yugoslav sculptors of the 20th century, and the museum's collection is the representation of the most relevant artists,
periods, movements and tendencies in Yugoslav, Serbian and international art of the 20th century.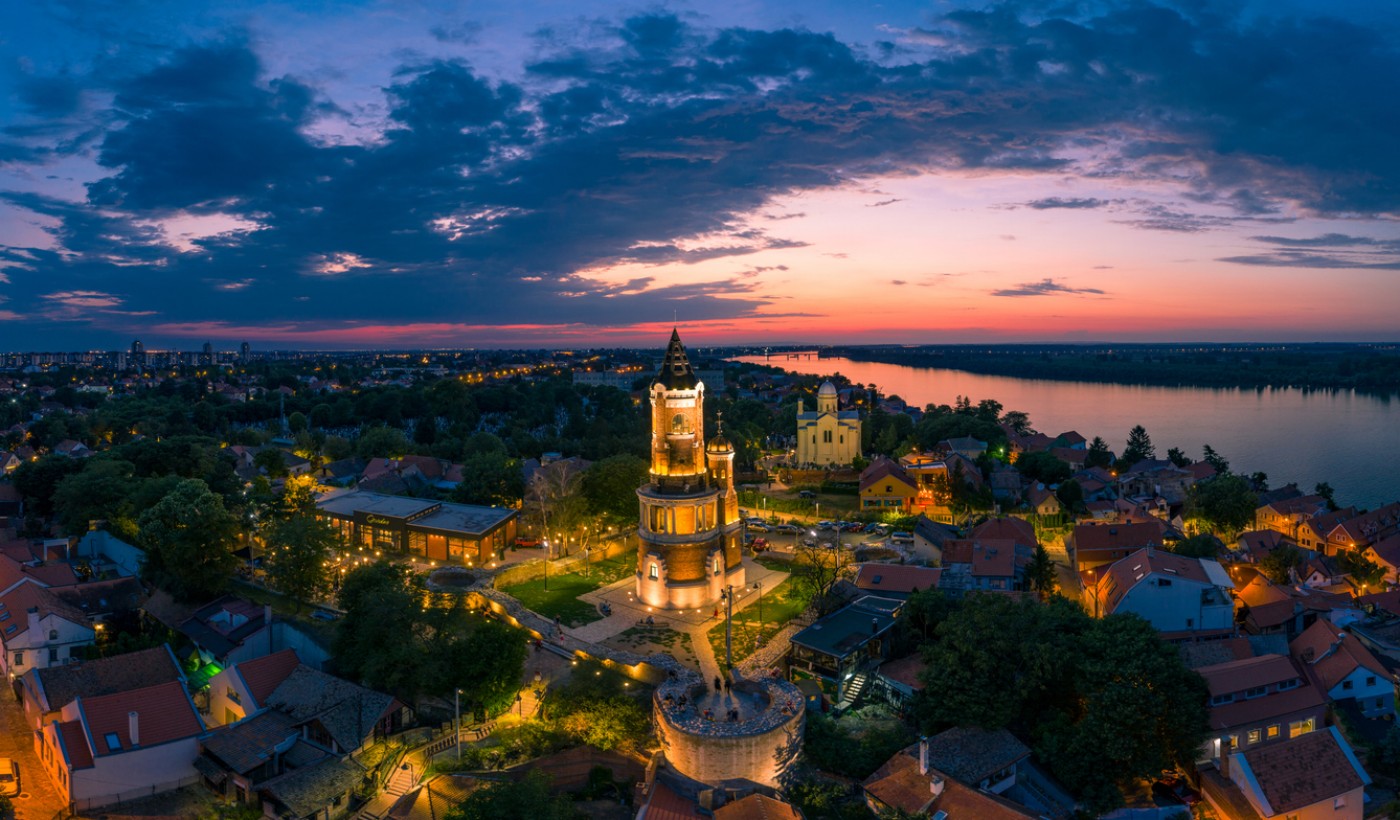 This would wrap up your two-day visit to Belgrade, and if you still have a few days left, there are a several options. You could use an extra day for a day trip out of the city. One of the most popular and easiest day trips from Belgrade is to visit Novi Sad, Serbia's second-largest city. It is incredibly easy to do this trip on your own, as there are numerous bus connections between the two cities as well as a train that will take you there in less than half an hour. Alternatively, you could use an extra day to explore some farther-flung neighborhoods within

the city and learn more about the history and culture of Belgrade. More ideas can be found on the Tourist Information Center website (www.tob.rs). 
Share your CEE experience
Do you also have a travel tip, a recipe recommendation, useful business customs, interesting traditions or a story about CEE that you would like to share? Write to communications@rbinternational.com and share your experience.
Subscribe to Raiffeisen Insights. Get an email with
the latest trends in the world of economics and business.
Information marked with * is required.