7 traditional Czech dishes you should taste
Like almost every country in the world, the Czech Republic has its own local specialties. Tourists are often on the lookout for the most famous dishes in the region they visit, and the Czechs really have a lot to offer. From main dishes to sweet meals, there are many different types of food in this country that you won't find anywhere else in the world. And as a bonus, almost every restaurant or pub in the Czech Republic actually serves most of these dishes, so there's no need for a tedious search for a delicious dinner after a day full of sightseeing!
Delicious Czech main dishes
"Svíčková" – Czech Republic's national treasure
Certainly the most famous Czech main dish and also the most untranslatable food. Svíčková is the name of a specific part of beef meat, but here it also represents the name of the whole dish. It is a traditional sauce made from blended root vegetables and heavy cream, served with bread dumplings and a slice of beef. It is often paired with whipped cream on the side and cranberries.
Even though it is a bit heavy, it is still very popular in the Czech Republic and is ordered by many tourists and Czechs in local restaurants. It is also a traditional wedding food, and the preparation itself requires a bit of talent and skill. In the past, it was also believed that as soon as a girl could cook this meal well, she was ready to get married. The recipe itself may vary a little, but everyone will assure guests that theirs is the best – it really is a national treasure more than anything else.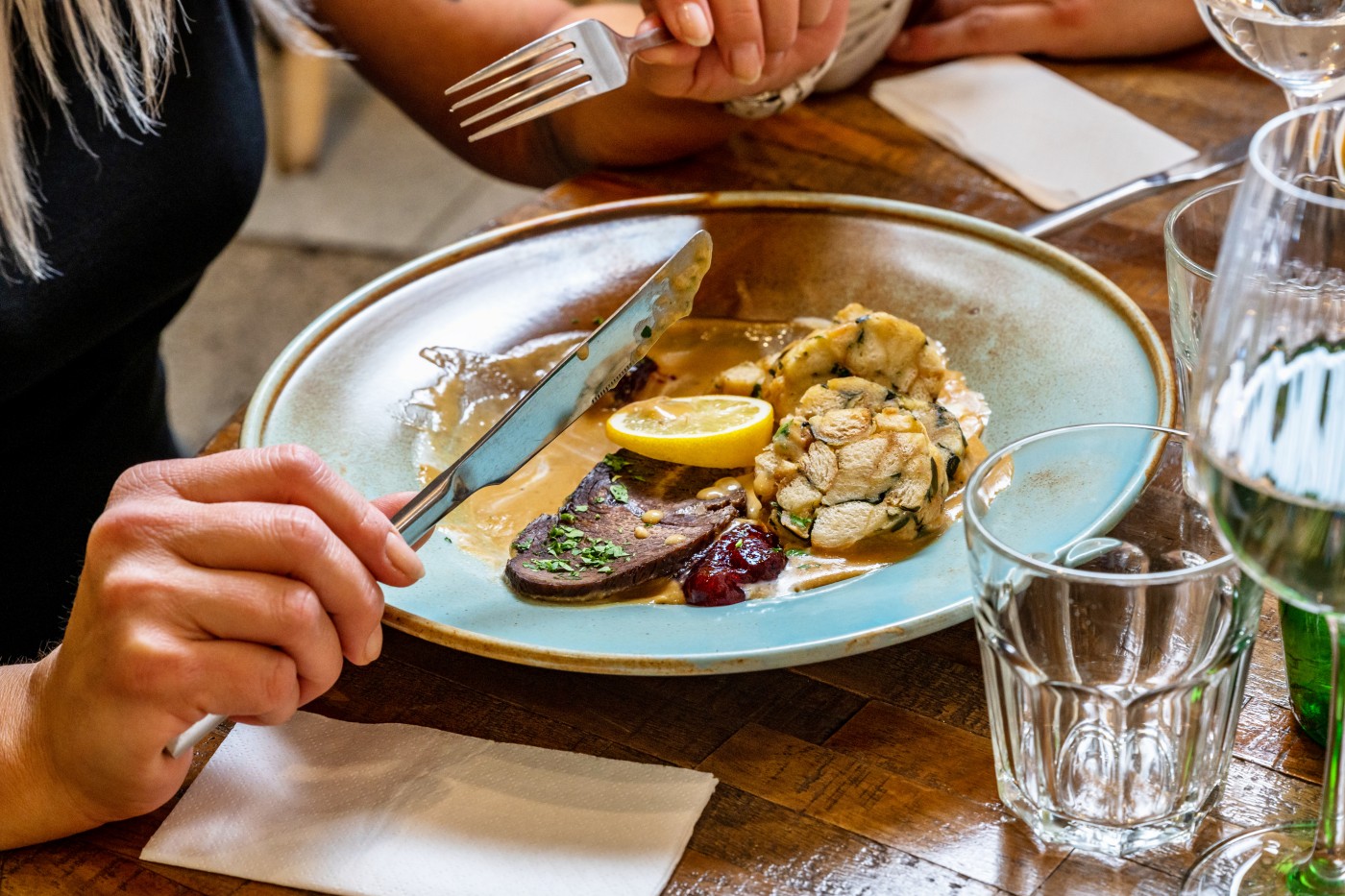 Sauerkraut and dumplings – either with pork or duck
Another very common main dish or lunch in the Czech Republic is called "vepřo, knedlo, zelo", translated as "pork, dumplings, sauerkraut". Dumplings are an altogether very popular side dish to many different meals and not so easy to find in other countries – in fact, it's almost impossible. They bear no resemblance to Chinese dumplings, for example. Czech dumplings are made from a dough, similar to the one used for bread, which is then cooked and served sliced. Sauerkraut is also a fairly popular side dish, it's basically fermented raw cabbage cut into thin
pieces. Some like to eat their sauerkraut sweet, others prefer the sour taste, but overall, it is a common and healthy dish.
As already mentioned, one of the most popular dishes among Czechs, almost as popular as svíčková, is pork, dumplings, and sauerkraut. It goes great with beer (and the Czech Republic has one of the best beers in the world!), fills your stomach and tastes delicious. Another option is to pair sauerkraut and dumplings with roast duck or goose. This is a more festive meal, often eaten on holidays. But on 11 November, Saint Martin's Day, it is almost a must. Legend has it that St Martin was to become a new bishop in the 4th century. To avoid the delegation, he hid in a duck pen, but the ducks started quacking and revealed him. Since that time, ducks are supposed to be roasted and eaten. This story is rather sad for animal lovers, but this dish is a tradition and definitely a popular and delicious meal.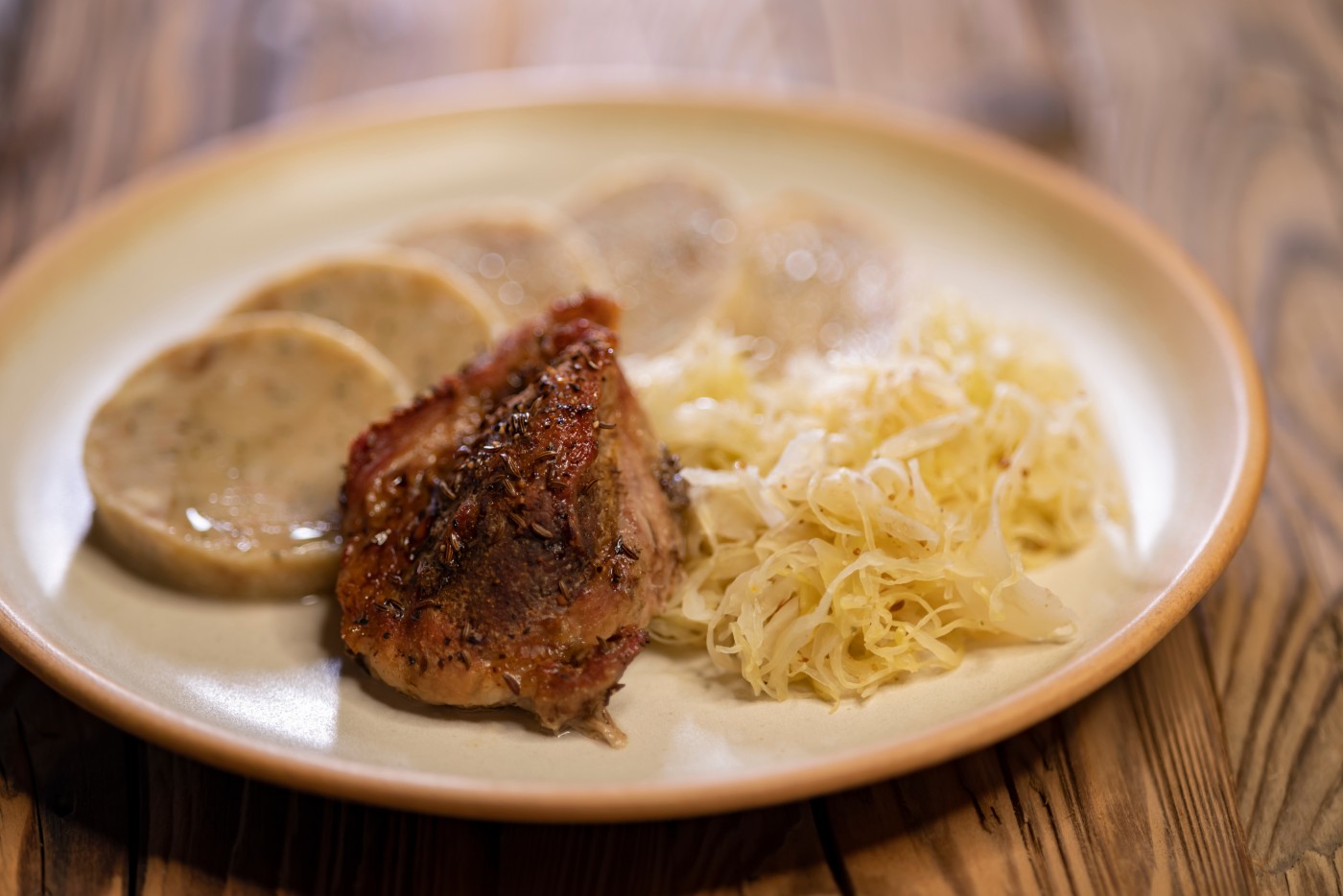 Steak Tartare – scary but so good
A dish made of raw minced or ground beef might seem unappealing at first. Sometimes it even has a raw egg yolk on top, which makes it even more questionable. However, served with well-chosen seasonings and eaten on fried or toasted bread rubbed with garlic, it makes for a very popular food. It is most often found in pubs as a "snack" with beer, but it can also make up an entire dinner. 
This traditional food actually comes from Italians who worked on the Czech railway. They brought their own bruschetta, but since there are no olives in the Czech Republic, they toasted the bread in pork fat, took a clove of garlic, and rubbed it over the bruschetta. Now, steak tartare is something people are afraid to try at first and then cannot get enough of.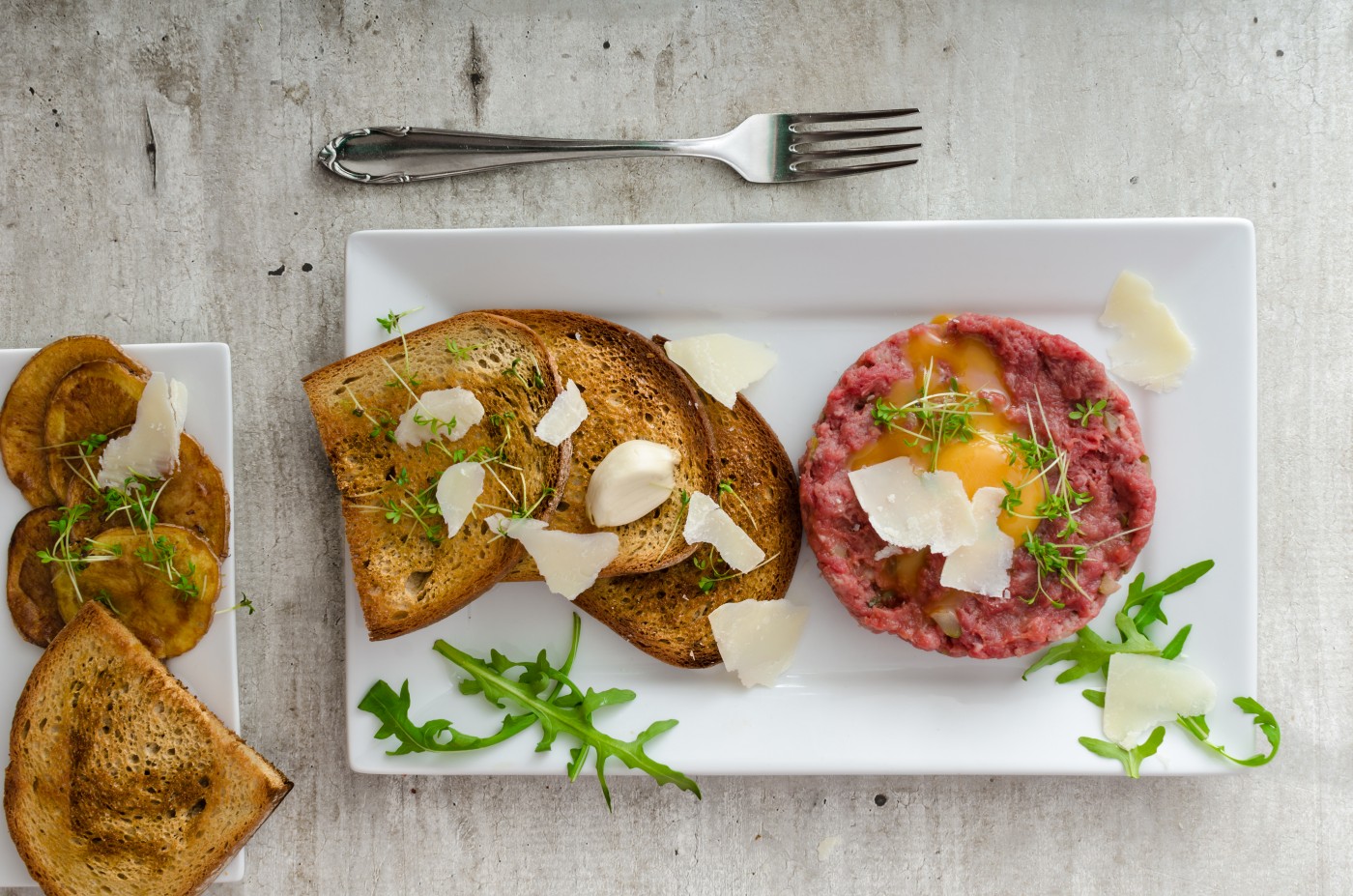 A sweet main course - Another Czech specialty
Fruit dumplings
Czechs, like many other nations, have their own desserts. Something to eat with tea or coffee, something for breakfast, but they are also known for having a sweet dish as a main course. Fruit dumplings are probably the best known – as you can see, dumplings are very popular. This time, they are made from a similar dough, but round, and also filled with different kinds of fruit. Mostly blueberries, apricots, or strawberries. For the best taste experience, they are poured over with melted butter and sprinkled with powdered sugar and/or cinnamon or cocoa powder. 
Poppy seed cones
Another common sweet dish is potato cones with poppy seeds, either sprinkled with the poppy seeds or stuffed. In some countries poppy seeds are hard to find in stores, forbidden almost, but not in the Czech Republic. In Czech cuisine, it is a staple in the kitchen cupboard and used with many different sweet dishes. These potato cones are also served with melted butter poured over them and sprinkled with powdered sugar to give them the best possible sweet taste.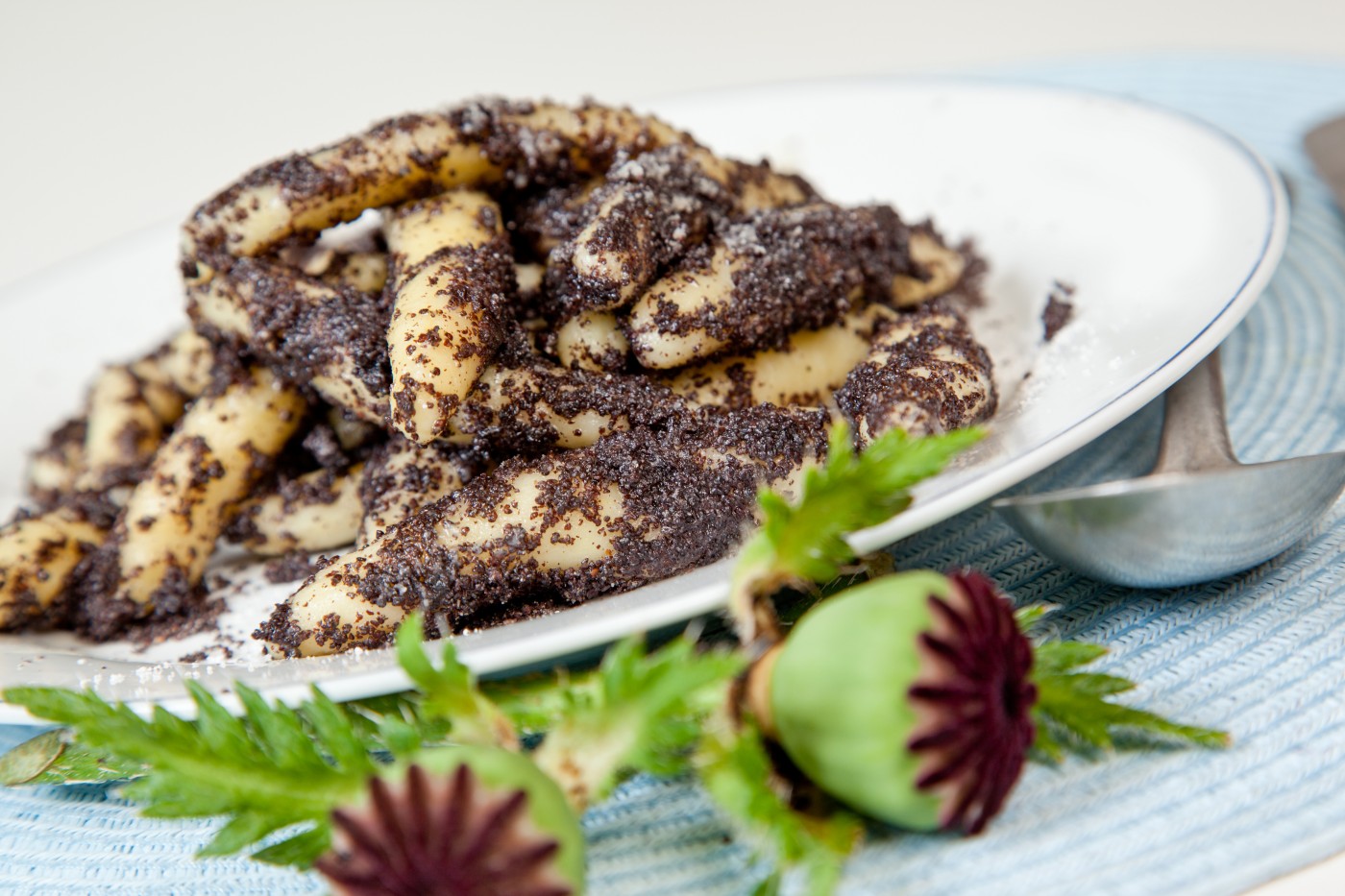 Like many other European countries, the Czechs have a variety of traditional soups. They cook more common soups like lentil, pumpkin or bean soups, but they also have some specialties. "Kulajda", for example, is a soup made from mushrooms, potatoes and dill. It is creamy, often served with hard-boiled egg, and is on the border between sweet and sour taste.
Another very well-known soup is "česnečka", with a very strong  garlic taste. It also contains diced potatoes, raw egg and sometimes grated cheese. Česnečka tastes best when there are also croutons in it too – it gives the soup the perfect crunch! Believe it or not, česnečka is believed to be the best cure for a hangover, some people swear by it. Moreover, the soup is often served to cure illnesses such as colds or flu.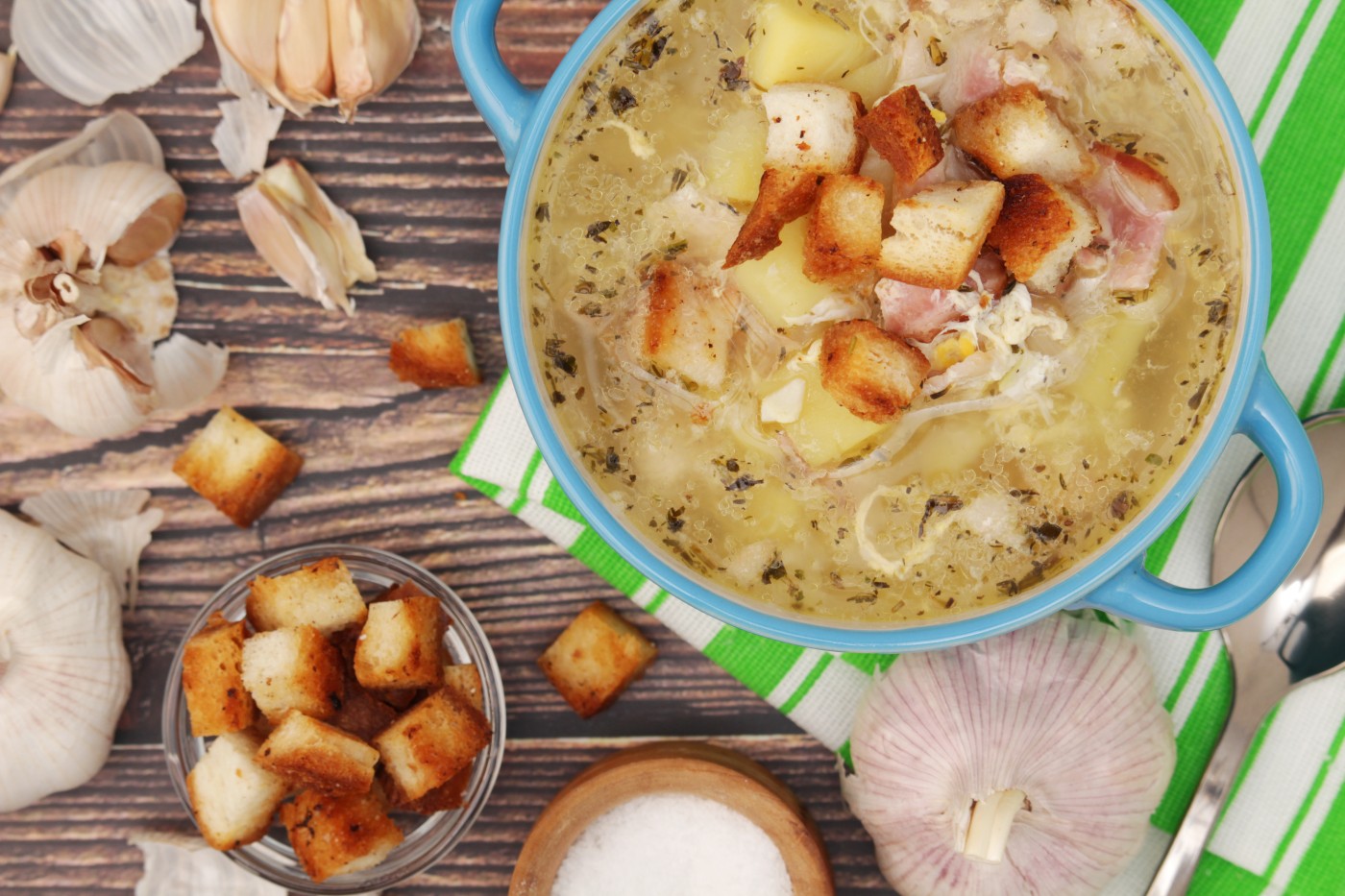 Share your CEE experience
Do you also have a travel tip, a recipe recommendation, useful business customs, interesting traditions or a story about CEE that you would like to share? Write to communications@rbinternational.com and share your experience.
Subscribe to Raiffeisen Insights. Get an email with
the latest trends in the world of economics and business.
Information marked with * is required.