The Vegan CEE Guide, Part II
First of all, I would like to thank you very much for the great feedback we received for Part I of the Vegan CEE Guide in January. The fact that our dear readers enjoyed the recipes and the CEE national cuisines in a plant-based version made me very happy. No wonder, then, that the blog editors asked for Part II back in May (which I had planned for the summer).
Let's continue the vegan culinary journey further south to taste the flavours of Romania, Serbia, Bosnia and Herzegovina, Croatia and Albania. The neighbouring countries have part of their history in common, and this is also reflected in the national cuisine: all have been influenced by Mediterranean and Turkish cuisine as well as Balkan cuisine and have developed in close intertwining, and it is easy to find similar cooking ideas, recipes and even names. At the same time, each national food culture has created something of its own and introduced something new again and again.
Romanian cuisine is rich in meat and meat products, but also offers a wide variety of recipes made from vegetables, fruits, lentils, nuts and grains. 
Mămăligă is one of the most famous dishes (vegan corn porridge) that has made its way from simple peasant fare to Michelin-starred restaurants. Originally, mămăligă was made from millet. Some believe that millet porridge was introduced by the Dacians, who inhabited the Carpathian region more than 2000 years ago. Later, in the 16th or even 17th century, it was replaced by maize after the latter came to Europe from America. There are many different ways to serve mămăligă, for example gratinated with Romanian soft cheese brânză. You can buy vegan branza in Romania or make it yourself.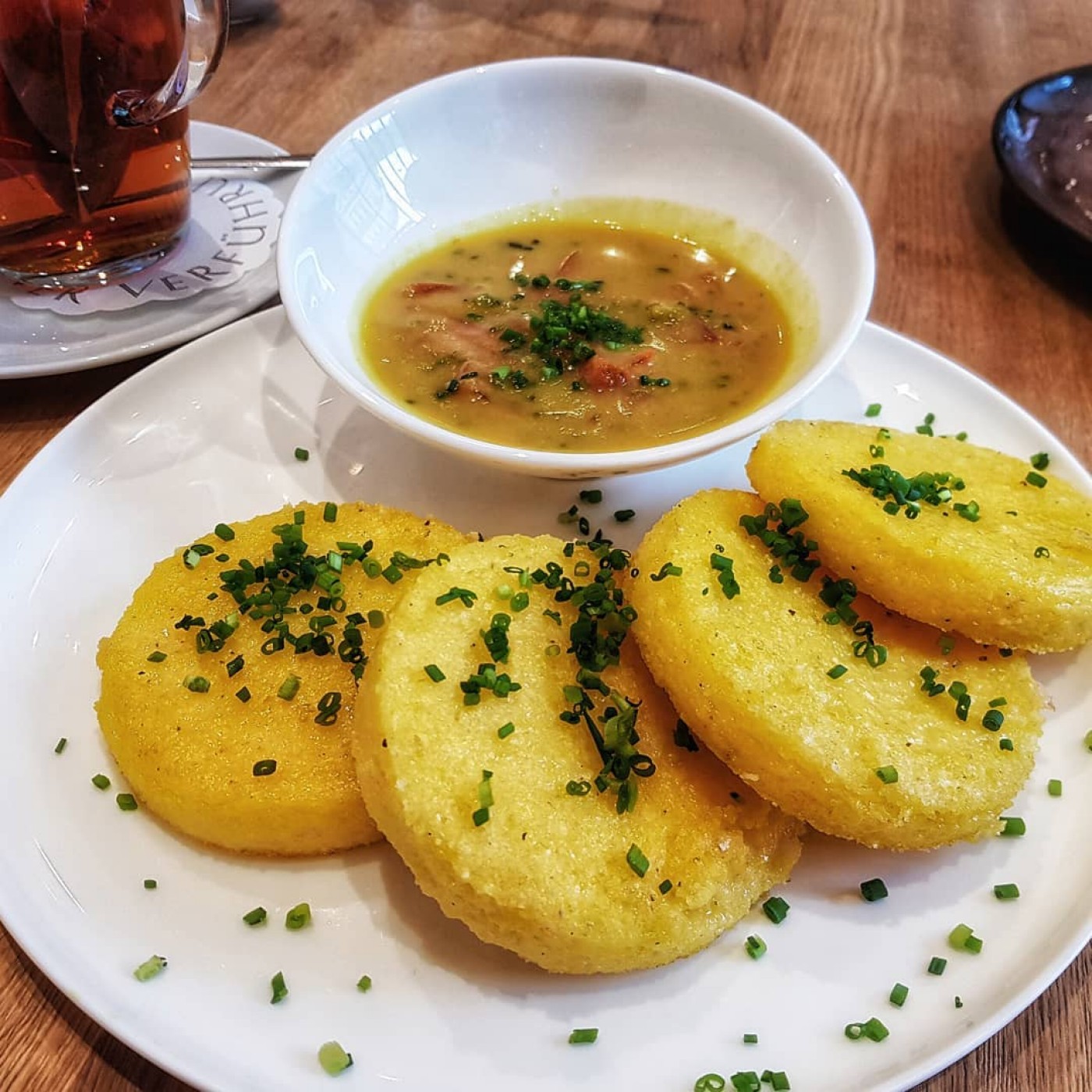 The dish is very popular in the CEE region: kačamak (качамак) in Serbia, in Bosnia and Croatia - palenta; harapash in Albania.
In Romania there are two types of soups: sour soups bors (based on fermented wheat) and ciorba (with the sour juice of unripe fruits, such as lemon, grape or plum juice) and sweet supa: almost clear with vegetable (instead of meat) stuffed dumplings. I also added a bunch of psyllium husks to hold the dough together. I like to use them as a substitute for egg. (Here are more options for how to substitute egg in cooking and baking.)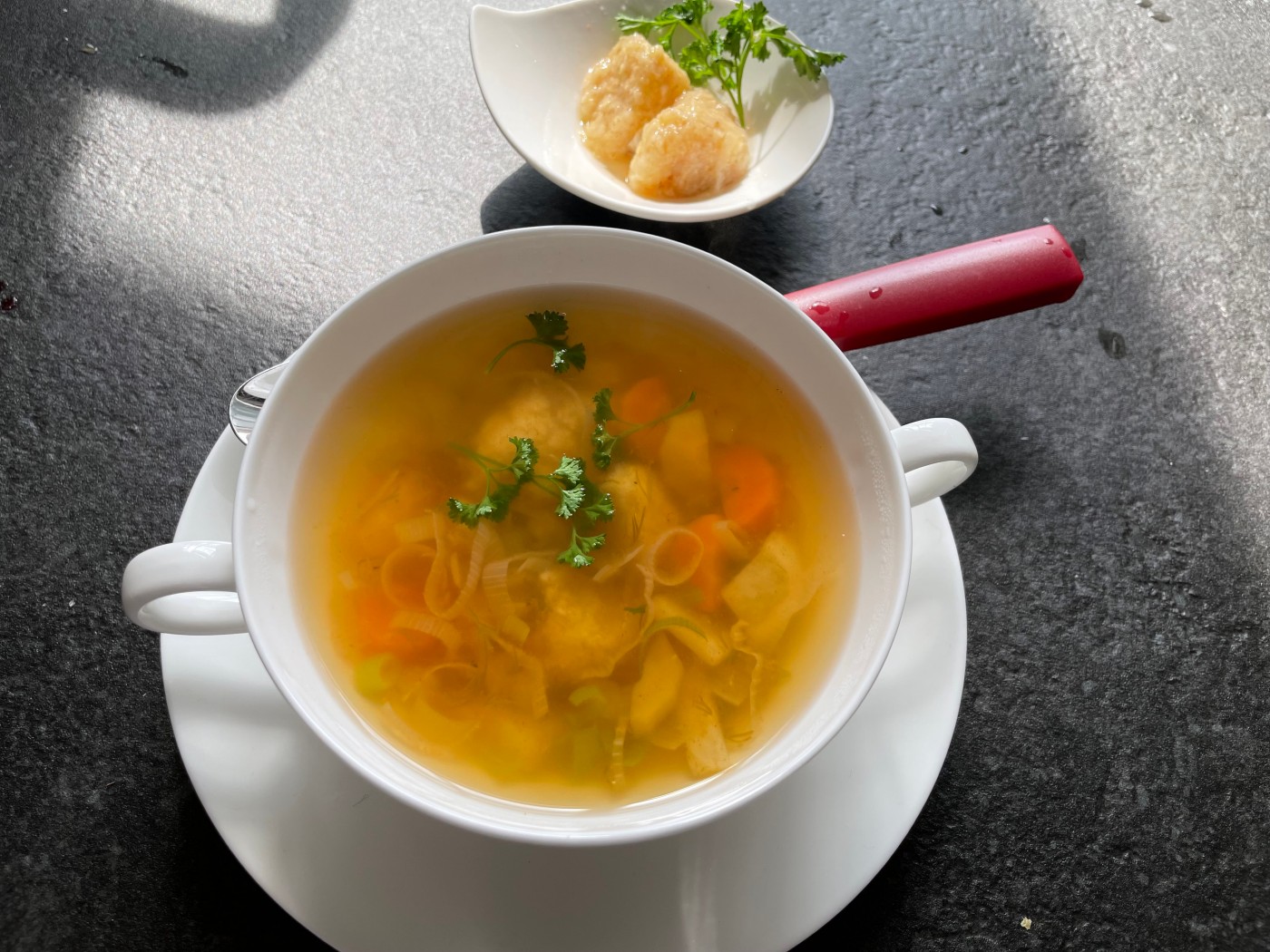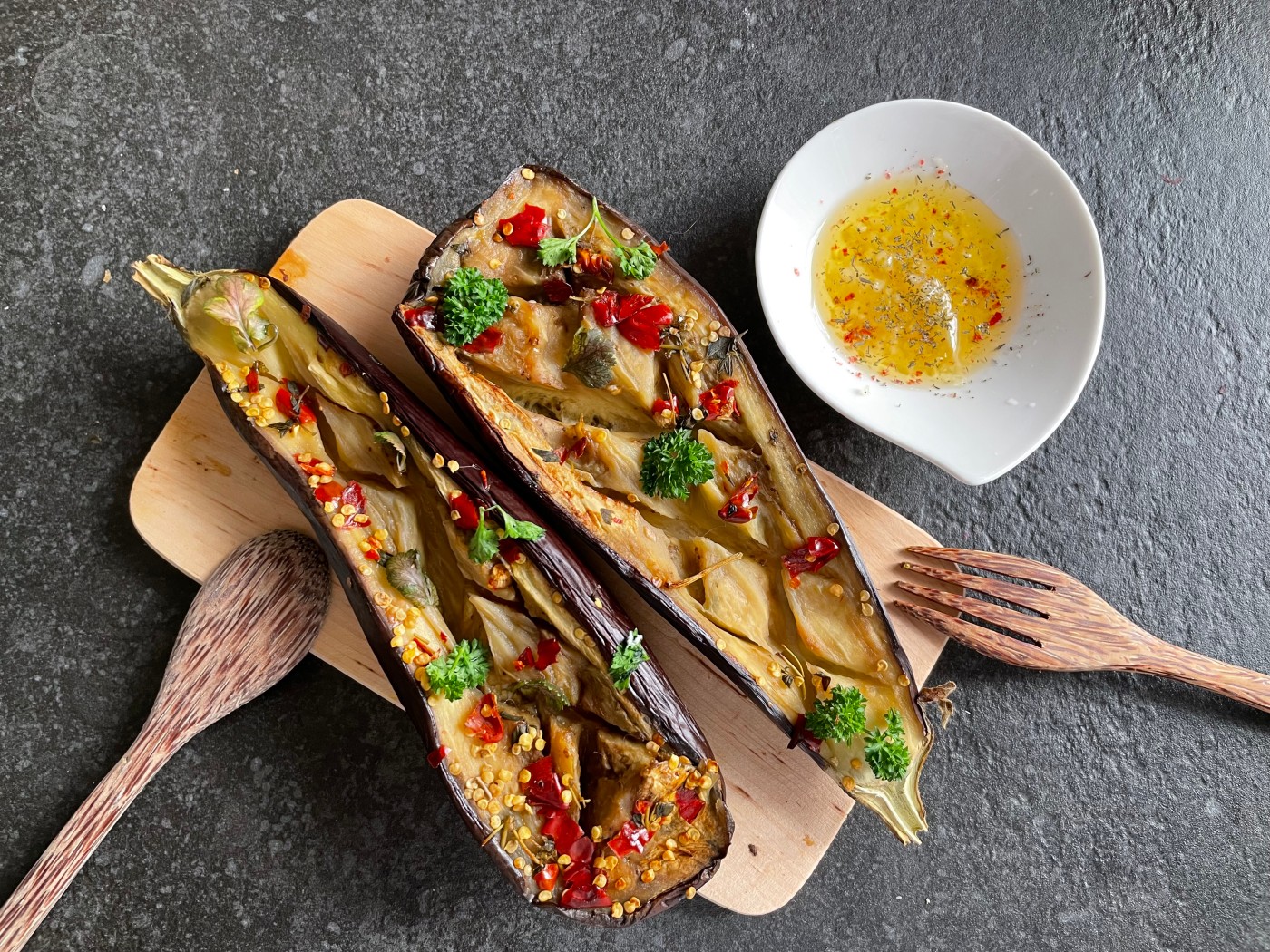 The most important and largest meal in Albania is lunch, which is often a combination of gjellë, slow-cooked meat, with various vegetables and a fresh vegetable salad (a mixture of tomatoes, cucumbers, peppers, onions and olives, seasoned with olive oil, vinegar, salt, and pepper). In this gjellë recipe with stewed green beans and potatoes, the meat part is replaced with smoky seitan.
Gjirokaster, a southern Albanian town recognised by Unesco as a World Heritage site, is also known as the home of qifqi, rice balls fried in olive oil. I've replaced the eggs again with psyllium husks and water, and added turmeric powder for sunny colour. Originally qifqi are fried in a special hollow pan, I baked them in the oven. The cooked rice is mixed well with the "vegan egg", a rich amount of mint, pepper, and salt. Balls are formed from this mixture and fried or baked.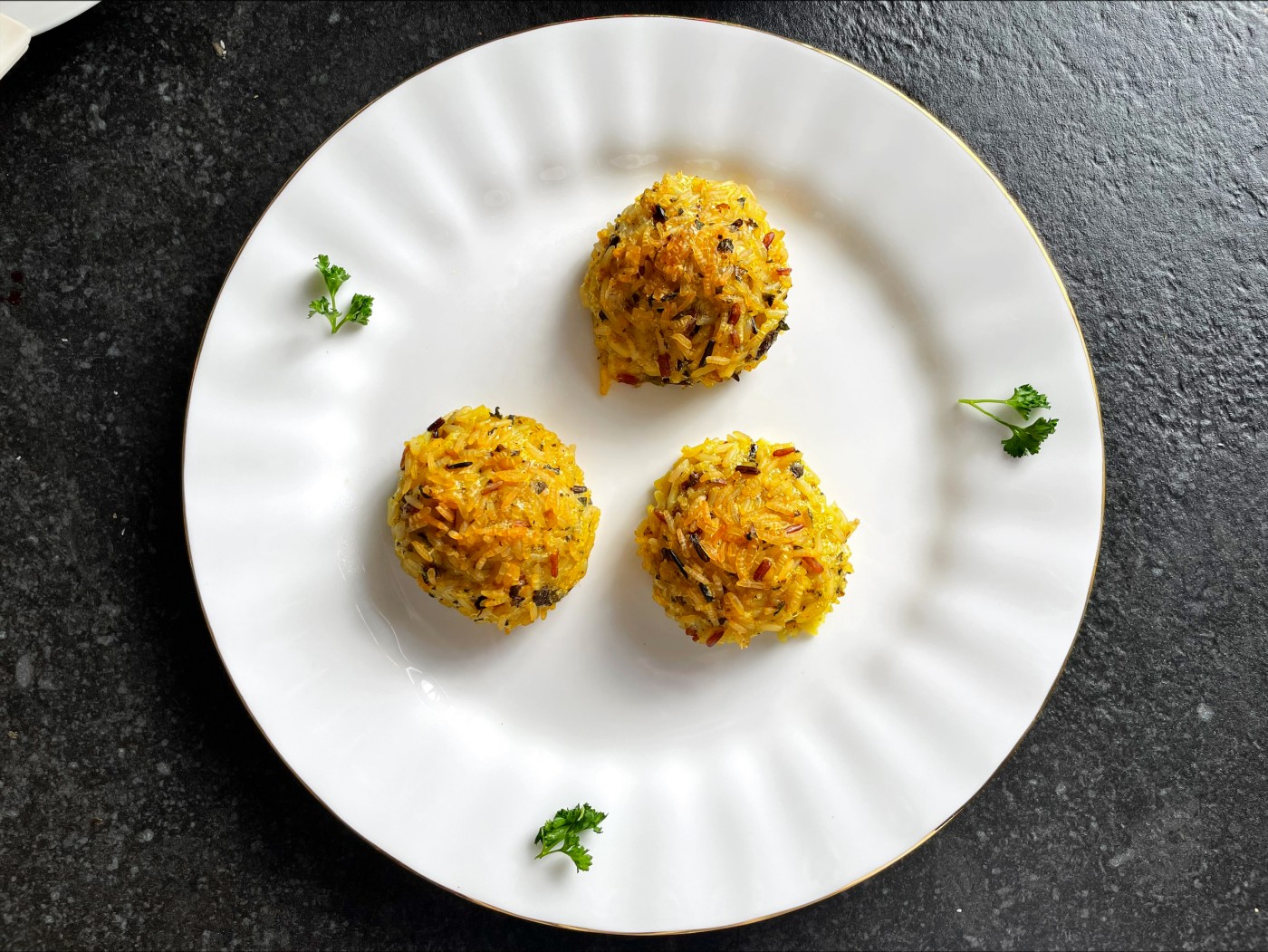 Another very special Albanian dish is tave kosi, baked meat with rice and yogurt. The dish is well known throughout the Balkans as Elbasan tava, named after the Albanian town where the dish originates. Here is the veganised recipe: marinated hard tofu and coconut yogurt are of help. 
Albania has its own version of meze (appetiser plate), which is mainly served at festive meals and in restaurants. It usually includes cooked vegetables, salads, pickled cucumbers, and other vegetables, prosciutto ham, salami, and brined cheese, accompanied by roasted bell peppers (capsicum) or green olives marinated in olive oil with garlic. Here you can see my veganised version and you can find a recipe for the brined cheese in this collection.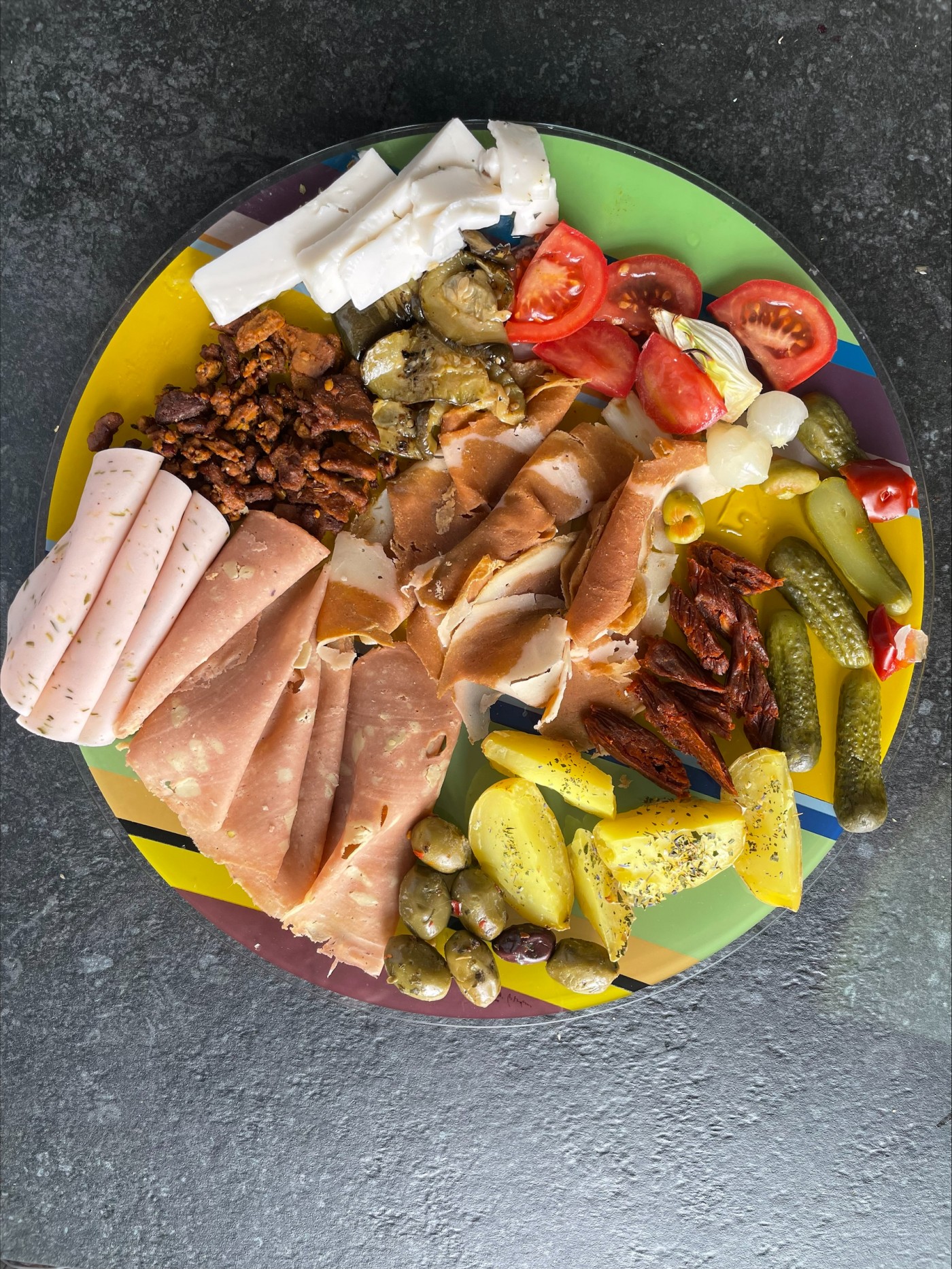 On a side note:
Meze in Bosnia, Croatia and Serbia, typically include ajvar, the vegan caviar of the Balkans. The word "ajvar" comes from the Turkish word havyar, which means "caviar". In the first known published ajvar recipe, found in a 19th century cookbook, both peppers and aubergine are mentioned. Although in Serbia only red pepper is usually used, in Northern Macedonia aubergine is also added. The sweetness of ajvar depends largely on the taste of the pepper.
Ajvar festivals and ajvar-making competitions are held in autumn and winter to celebrate the spread across the Balkans.
A very special place in Bosnian cuisine is taken by dolmas, which are popular all over the Balkans - seasonal vegetables stuffed with a rice-vegetable-meat mixture. Peppers, zucchinis, eggplants, or tomatoes can be used as a base.
For sogan dolma, which originated from the city of Mostar, onions are stuffed with rice, tomato puree, paprika, sour cream, and spices.
Sarma is another subgroup of dolma where the same filling is wrapped into the leaf (pickled cabbage or wine). Use this recipe or a video recipe.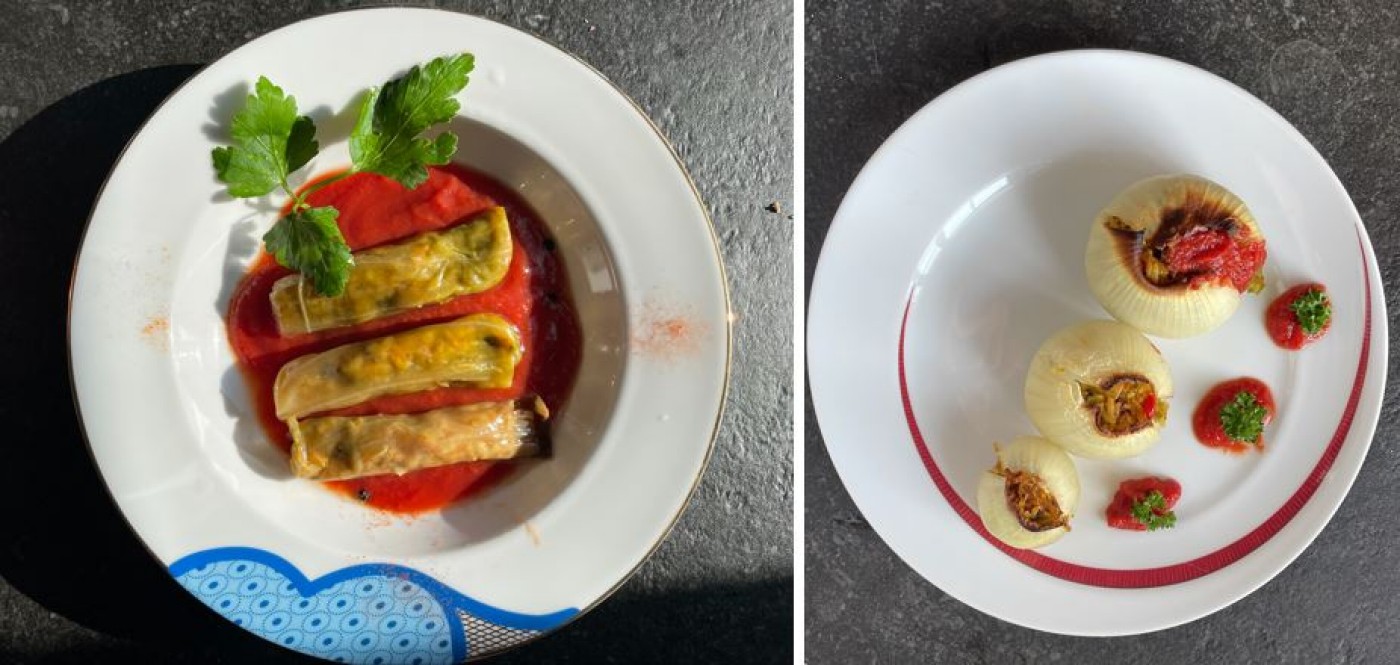 Burek, or pastry made of a thin flaky dough filled with a variety of ingredients, is another well-known dish in the Balkans. It can be prepared in a large pan and cut into smaller portions after baking, or it can be made as single pastries. In Bosnia, the real burek is filled with meat, otherwise it is referred to as pita (filled with potato or apples for example). They are usually baked in spiral form before being cut and served in individual portions. Here is the recipe for the veganised version of burek with ground seitan.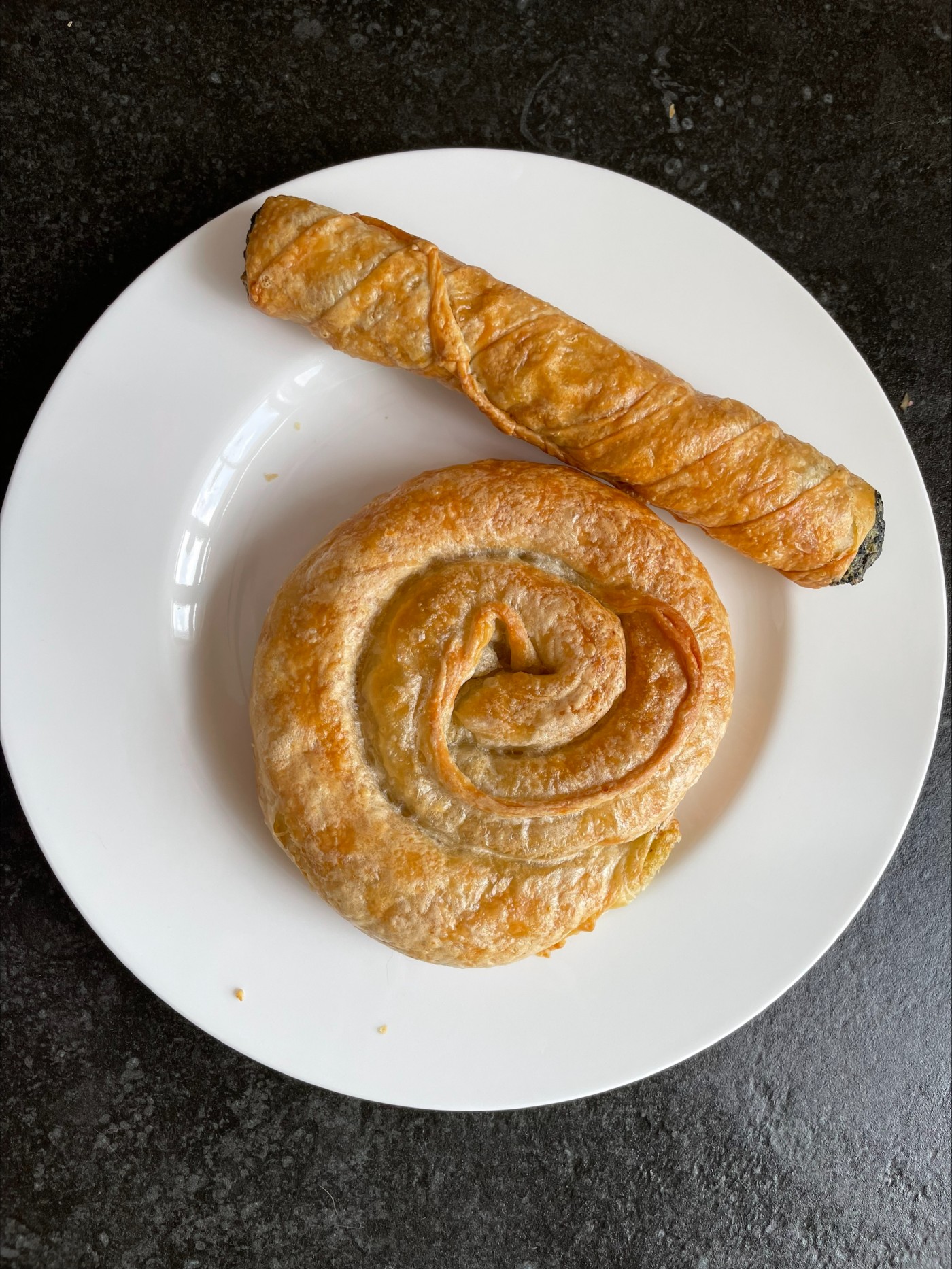 And for desert, I recommend tufahije: poached apples stuffed with walnuts and topped with coconut yogurt.
The last time I was in Belgrade, I asked the chef at the hotel if he could recommend any national dish which is naturally vegan. "Belolučene paprike" was the answer, "it is a Serbian salad made of roasted bell peppers, garlic, vinegar, salt, oil, and parsley, it takes just ten minutes, I will make it for you."
Another well-known dish in the Balkans is the rich bean soups, most of which are naturally vegan. Here is the Serbian version of the white bean soup (pasulj). White beans are an amazing source of protein and other nutrients, and the recipe is also packed with nutritious vegetables like onions, carrots, and celery.
There is a view that Serbian food is vegan-friendly by default, as there are many recipes created for the fasting time (posno) when people eat a plant-based diet.
I noticed that Belgrade is vegan-friendly and new vegan places are opening. We opted for the cosy restaurant vegANGELov in the historical centre. The food was so delicious, colourful, and creative, that I would have loved to lick the plate.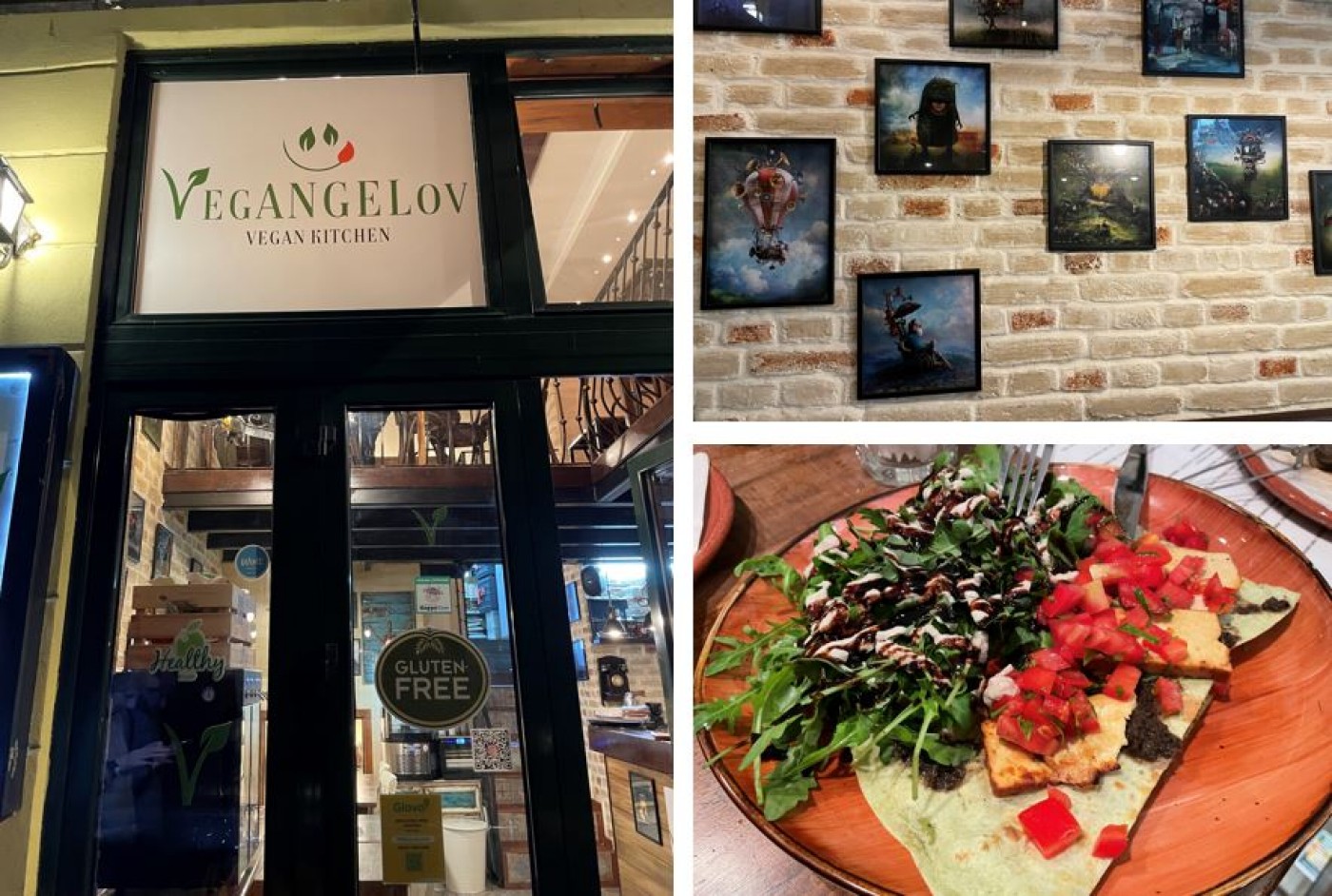 Although Croatia shares many cooking traditions with Serbia and Bosnia, its Adriatic background and neighbourhood with Italy have particularly favoured Croatian cuisine. It is known as the cuisine of the regions, as every district has its own distinct culinary tradition, with a clear difference between mainland and coastal regions. Let's enjoy the variety.
Blitva (Croatian mangold) is the queen of the vegetable kingdom in Dalmatia. Blitva s krumpirum or mangold with potatoes is a simple and delicious Croatian side dish (naturally vegan) that can easily be prepared as a main course.
Ćoravi gulaš is a variant of goulash consisting of potatoes, onions, carrots, peas, and tomato juice. The name of the dish can be translated as blind goulash and refers to the fact that this comforting stew does not contain any meat.
And finally, to top it off, we have a delightful trio of vegan deserts: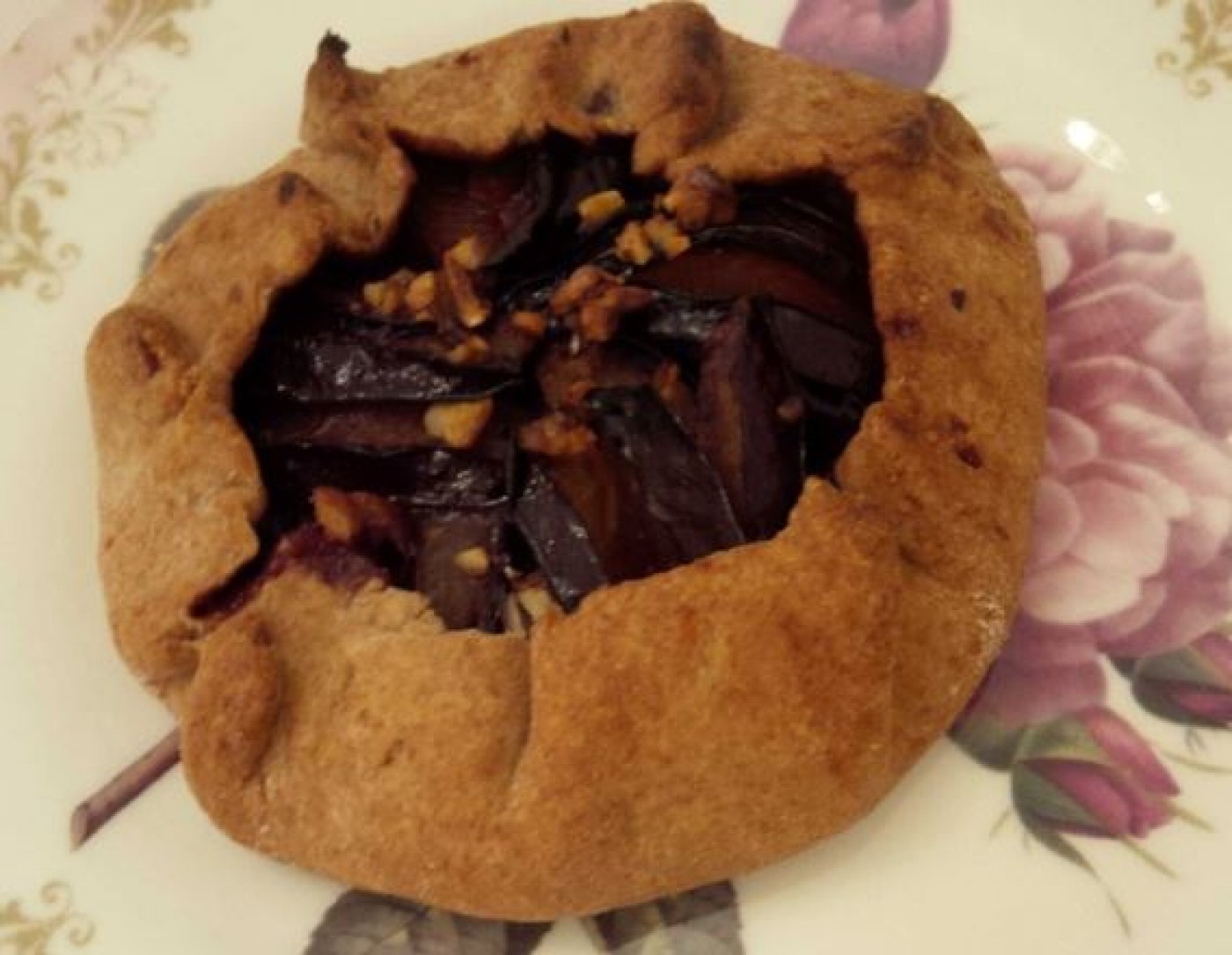 I am so grateful for this opportunity of culinary journey. This peaceful cooking is like a meditation for me with the beautiful and delicious outcome you see on the pictures. I hope you will enjoy it too while you read, cook, taste and share. I look forward to hearing from you again.
See you soon, because Part III of the Vegan CEE guide will be coming soon.
Share your CEE experience
Do you also have a travel tip, a recipe recommendation, useful business customs, interesting traditions or a story about CEE that you would like to share? Write to communications@rbinternational.com and share your experience.
Subscribe to Raiffeisen Insights. Get an email with
the latest trends in the world of economics and business.
Information marked with * is required.