An introduction to Sustainability Reporting Standards (ESRS)
Have you heard of the EU Sustainability Reporting Standards (ESRS) - the European Commission's upcoming EU compliance and disclosure requirements when it comes to sustainability reporting?

If you have not already, we assure you that you'll hear it everywhere soon. ESRS are a crucial element of the EU's new Corporate Sustainability Reporting Directive (CSRD) and are being hailed as the evolving standards for corporate sustainability reporting activities. For the first time ever, environmental, social, and governance (ESG) information and corporate sustainability disclosures must be reported in a standardized, comparable, and more consistent format across the EU – just like financial reporting.
On 23 November 2022, the European Financial Reporting Advisory Group (EFRAG) completed the development of an initial set of sustainability reporting standards, after incorporating comments from the public consultation process. The number of disclosure requirements has been reduced from 136 to 84 and the number of quantitative and qualitative datapoints has been reduced from 2.161 to 1.144. The EU Commission must now review the final ESRS drafts and, is expected to adopt them as a Delegated Act by June 2023.
Basic structure of the final ESRS draft: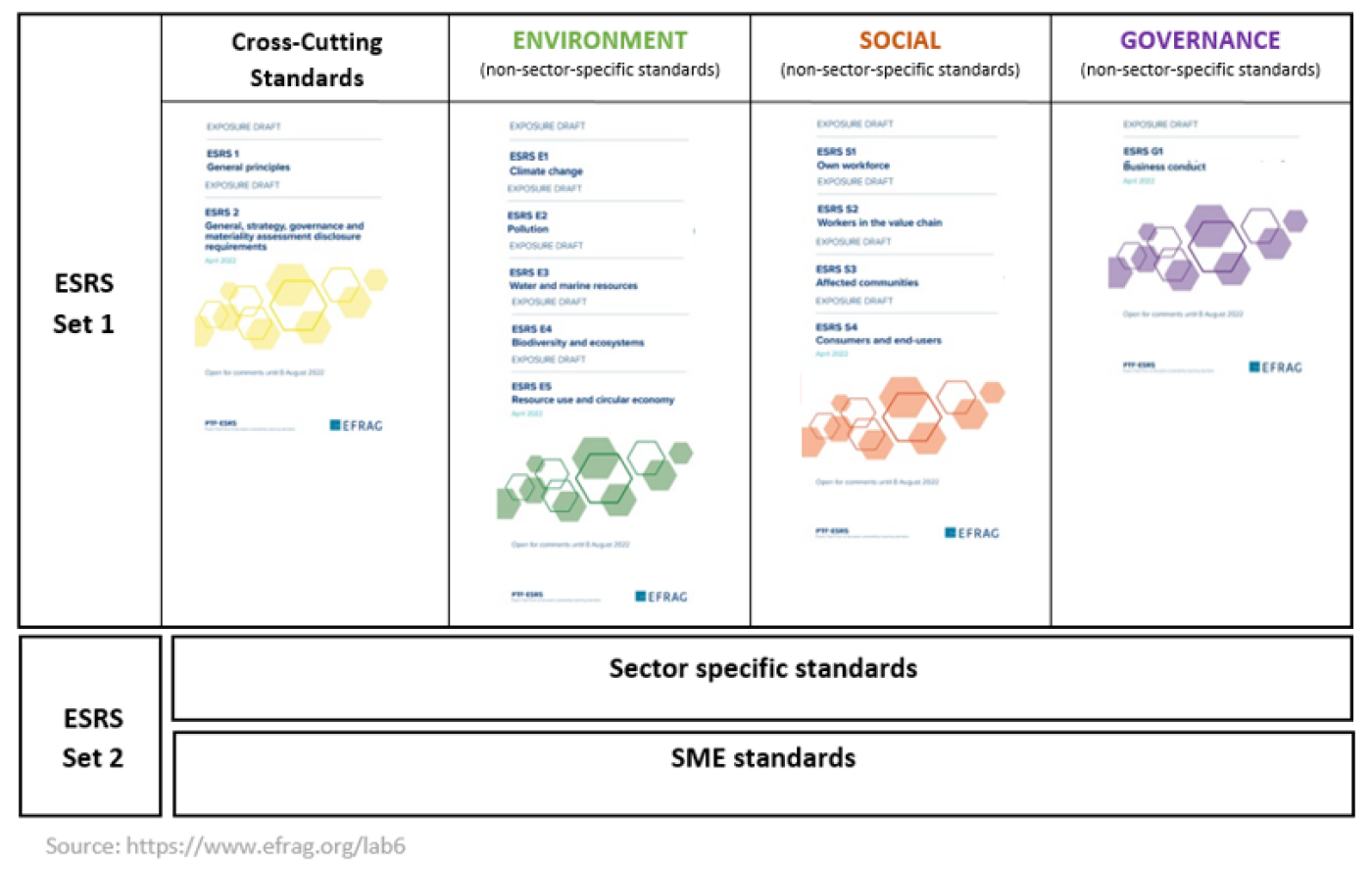 There are currently 12 draft ESRS topics (cross cutting, E, S and G), the publication of the second set of ESRS (on initial sector-specific standards and standards for listed SMEs) is scheduled for February 2023, so there is more work saved for next year.
As most of the business enterprises in Europe are classified as SMEs, they are an essential part of the European economy and crucial for the EU's goal of achieving a net-zero economy. The SME standards will be less rigorous than those that will apply to larger companies to remove some of the heavy reporting burdens – but will cover the information needs investors and other stakeholders may have.
Who must report the European sustainability reporting standards and when?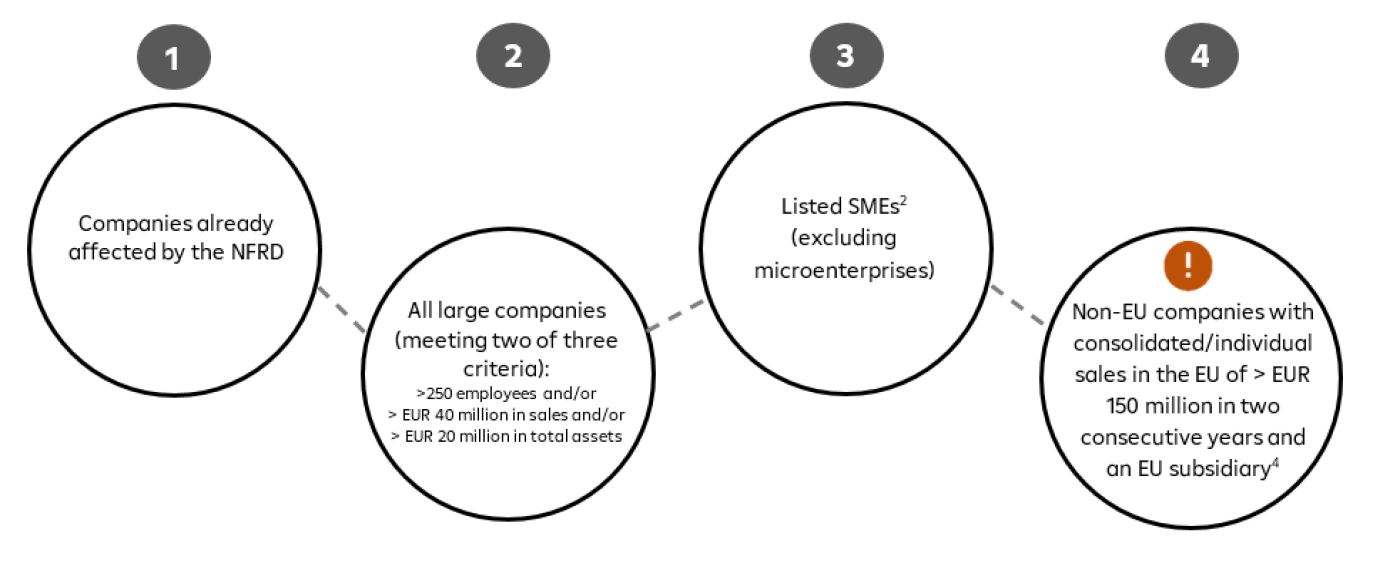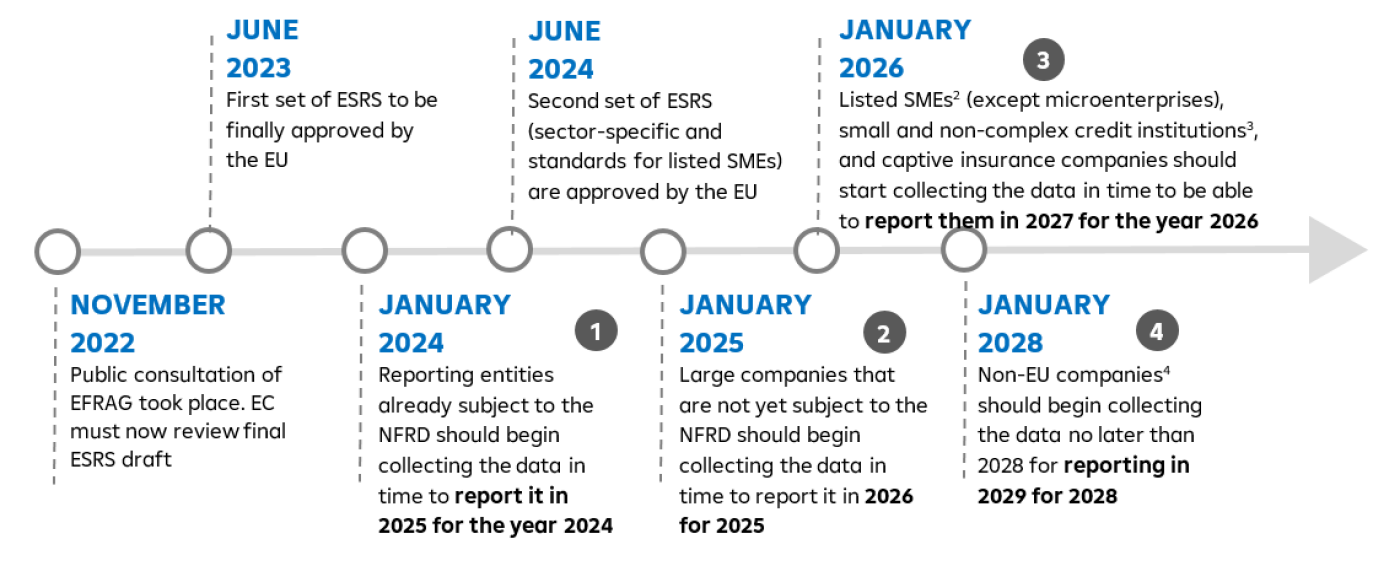 [2] SMEs have the option to opt-out for two years and report in 2029 based
on 2028 data
[3] Small and non-complex institutions and captive insurers are treated as
listed SMEs (opt-out option until 2028 does not apply unless they also meet the definition of an SME).
[4] Non-EU companies with turnover in the EU on a consolidated/individual level of > EUR 150 million in the last two years and an EU subsidiary that is large as defined by the CSRD, a listed company or an EU subsidiary with turnover of EUR 40 million.
Major challenges and opportunities for affected companies:
IMPACT MATERIALITY
Inside-Out perspective, impact of the company on the people and the environment.
FINANCIAL MATERIALITY
Outside-In perspective, impact of sustainability issues on the performance of the company.
ESRS requires disclosure of information in accordance with the EU Taxonomy (CSRD companies are automatically in the scope of the EU Taxonomy). Which is a very technical catalogue of criteria, not easy to implement.
Wide-ranging information requirements
The information disclosed shall include forward-looking and retrospective information as well as qualitative and quantitative information. Where applicable, also information about the company's value chain, including its own business activities, products and services, its business relationships, and its supply chain.
Mandatory external assurance
Requirement for external audit of sustainability information (first years only limited assurance needed). Ultimately, it should be the same level of assurance like it exists with financial data.
Sustainability reporting in the management reports
Mandatory disclosure of sustainability information in the management report requires a change in terms of reporting structure (inclusion of new and different types of information).
Alignment with TCFD-requirements
Companies disclose information consistent with the Task Force on Climate Related Financial Disclosures' (TCFD) guidance, that enables the transition to a sustainable economy with global warming limited to 1.5°C and the goal of climate neutrality by 2050.
For inquiries please contact:
regulatory-advisory@rbinternational.com
RBI Regulatory Advisory
Raiffeisen Bank International AG | Member of RBI Group | Am Stadtpark 9, 1030 Vienna, Austria  | Tel: +43 1 71707 - 5923